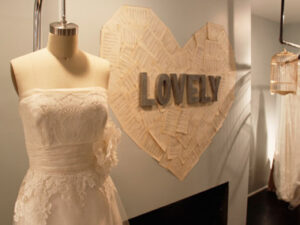 When I read about the newly opened bridal shop Lovely in downtown NYC recently, I was ecstatic to check it out. Tucked away in Manhattan's trendy East Village, Lovely promises to be the answer for that woman who likes to dance to the beat of her own drummer. Read: This is the type of bridal shop Rihanna will visit when/if she decides to tie the knot. I was really looking forward to checking it out and telling you guys all about it today.
So after a fabulous brunch Saturday afternoon with my buddies Cori, Theo and Cori's adorable baby girl J, I planned to head over to Lovely to get the scoop for you guys. I was most interested in seeing gowns from Heidi Elnora up close and personal because her stuff appears to be so gorge on the site. And Sarah Seven's price points (gowns start at $500!) definitely had me intrigued. Lovely also carries bridesmaid dresses and accessories. But in the midst of me trying to be fabulous I forgot to schedule an appointment. When I phoned the boutique to get directions, I was informed that Lovely — like most bridal salons — only see clients by appointment. Phewy. But I will be making a visit very soon (the right way) so stay tuned. In the meantime, if you're a bride-to-be in the NYC area, check Lovely out and let me know what your experience is like.
P.S. — The restaurant I had brunch at would make the perfect venue for a chic and intimate bridal shower! Sweetiepie Restaurant is a cool hybrid of girly fun and sexy sophistication. I wouldn't suggest eating there if you're starving but the cocktails and ambiance are definitely worth a visit with your bridal party at least if you're in the NYC tri-state area.