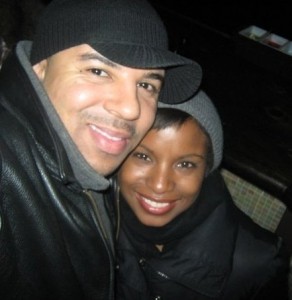 Nadine is back, y'all. This week she's giving practical tips on a rarely discussed but very important subject in wedding planning: involving the in-laws. You don't wanna miss this. She even includes a MUST-SEE video with her fiance, Sean. But I'm warning you…be prepared to laugh while watching because it is HILARIOUS!

Nadine's In-Law Tips For Planning Bliss
Marriages are not just about the joining of two people, but the joining of two families. Even the strongest relationships will be tested at some point during the planning process. We often hear nightmares of family tensions running high during wedding planning. Your fiancé's family is part of the package, so for better or worse, you'll need to make an effort to get along.
How can you involve your future in-laws in your planning process?  Rest easy.  Check out these tips, which should help you avoid any drama.
Present a United Front: Make sure you and your fiancé are on the same page, before you discuss any wedding plans with your in-laws.  Be open to suggestions from family members without pitting one against the other. Try to deal with everyone in your families as a couple.
Ask For Their Input: Find topics to ask your in-laws for input. There may be differences in the two sets of parents, so you will need to make a list of what each one is best at, what areas to avoid, and then figure out a way to make it fair.  Ask them for input on things they'd like to do and give them many thank yous.
Use phrases like the ones below to validate their ideas without making any commitments to them.  Consider:
"What do you think about _____", "I'd love your thoughts on _________", "Thank you so much for sharing them with me", "I'm definitely going to consider your ideas" "They all sound so great/helpful/useful, I'm going to seriously have to think this through."
Keep Them Informed: Ask for their suggestions in areas that are less of a priority for you (e.g. seating arrangement on the groom's side of the family, the guest list for the groom's side, etc.).
Keep them abreast on how the wedding planning process is progressing and accept offers to help, where appropriate (e.g. to make wedding favours, perhaps, or to make snacks for the wedding party on the day of wedding).
Build a Bridge: Think of your wedding planning as a good way for you and your in-laws to be better acquainted.  One way to do this is to include your in-laws in your bridal party.  For me, I chose Sean's sister Alana as my Matron of Honour.
As the only girl in her family, Alana is very close with her baby brother. Alana and I have also gotten very close over the years. She's like a big sister to me so it was an easy choice.  I should mention that Sean and my mom have developed a fantastic relationship as well. Lately however I've been noticing that my mom seems to be favouring Sean a little more than me: serving him food first, calling him first, and emailing him first. Recently mom once again served Sean first. Of course, Sean being the comedian he is, whispered to me, "I'm going to make your mom forget about you." Wow! Not sure how that's possible, but umm, okay.  Here's Sean take on it:
Remember, your wedding is one day, but your in-laws will be yours for life.  It's in your best interest to realize that you can't change them so you'll need to take the high road.  Empathy and tact can go a long way in diffusing any possible areas for disagreement between you and your future in-laws.  Stay positive and in time, you may have the foundation in place to forge a beautiful relationship.
How have you included your future in-laws in your wedding planning?  Has their involvement hurt or strengthened your relationship?  I want to hear your stories!