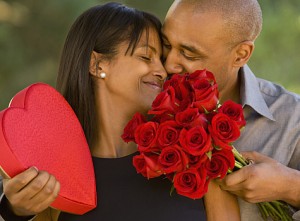 Things have been quiet on the planning front. So with Valentine's Day approaching I wanted to take a look at some fun gift ideas for engaged couples. When you're engaged Valentine's Day takes on a new meaning.  Somehow $5 chocolates no longer cut it, nor over indulgent gifts. Yes, you want to enjoy the day but when you're saving for your wedding, it's important to make every penny count.  These gifts are sure to spice up your Valentine's Day without breaking the bank.


Upgrade Your Wedding: Was there a wedding detail that your sweetie wished could have been more luxurious?  Surprise them with an upgrade!
Pamper Yourselves: Relieve any wedding planning stress with a "his and hers" spa treatment, a set of luxurious sheets for the bed (such as 600-thread count Egyptian cotton) or a fun date night.
Pre-Honeymoon Getaway: Looking forward to the honeymoon after the big day? Have a pre-honeymoon. Steal away for a weekend getaway similar in nature to the honeymoon you'll share later on.
Pre-Wedding Gifts: If your wedding is just around the corner, buy something extra for the big day or even the week of the wedding. You can't go wrong with a catered wedding day breakfast, bracelet, watch, cuff links or handkerchief. And you can make it even better with a heartfelt note letting your future husband or wife know how excited you are to marry them.
Boudoir Photos: Give your fiancé a gift for his eyes only with sexy boudoir photos.  Many reputable photographers offer this service, helping you to be relaxed as you get beautifully captured in lingerie. You can get as creative as you like, as some packages include calendars and little black books so have fun!
Gadgets: We all know boys love their toys! An iPad, camera or GPS are perfect for a gadget-loving groom-to-be and can all be used on your wedding day.
Less Expensive (or FREE!) Gifts: If your finances are strained, don't buy anything at all.  Instead, offer your amour a love coupon book, with coupons they can exchange for a home-cooked meal or a foot tub. I really like this idea. If my fiancé is reading this, my love coupon book for you would include time with my new iPhone 4. My note would read something like this: "Baby, I know it's been hard these past few days, knowing that my phone now triumphs your old iPhone 3GS. This is my gift to you…Love you so much, Happy Valentine's Day! xoxo"
How are you and your fiancé spending Valentine's Day?