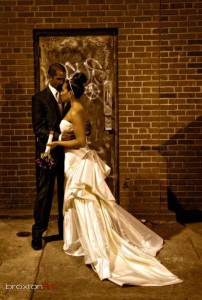 Bride: Akida Stephens, 34
Groom: Kenneth "Ken" Neely, 47
Occupations: Stephens, communications manager; Neely, owner of IT company
Homebase: Philadelphia
Wedding Date: October 15, 2010
Wedding Location: Ceremony & Reception: Hotel Sofitel, Philadelphia, Pennsylvania

Snow Bunnies There were no love at first sight moments between Akida Stephens and Kenneth Neely when they met during a ski club meeting ten years ago. Nada. Zilch. "I thought he was sexy but he never swept me off my feet," Akida admits adding that she assumed Ken — an older divorcee — would be too eager to settle down. Ken counters saying, "When we met, dating and marriage was the furthest thing from my mind." What did immediately attract the couple was their mutual love of sports. They bonded on the slopes which thoroughly impressed Akida. "He loves to ski and bike and that is hard to find," she reveals. Ken explains that since the couple skied together for a couple of years before they began dating, they were able to build a true friendship.

If I Ain't Got You, Babe "When we did start dating we took ski trips to Colorado and Canada — we're extreme skiers," recalls Ken. "There's a totally different level of connection required, you have to trust the other person with your life. It's much more than I like you, you like me," he adds with a chuckle. As their dating progressed, the attraction grew. However, they encountered a bump in the road to happily ever after and decided to go their separate ways. "During that breakup I went on vacation and thought about him the entire time.  I kept thinking how I would have had a much better time if he was with me," Akida confesses. When she returned home she learned Ken had been in a car accident. That tragedy brought the couple back together. "I realized life is short and I didn't want to live without him in mine," she shares.
[cincopa AQIAKcajzJv7]
All images by Broxton Art.
New Year's Resolutions "Since we started dating, we go to church together on New Year's Eve and go skiing on New Year's Day," says Akida. Ironically, the sermon topic for the service the night they got engaged was, "Will you be on my team?" As Akida packed her bags following church for their annual New Year's Day ski trip, Ken asked his beloved if she was ready to be on his team…And she agreed. The couple soon began planning their nuptials in the City of Brotherly Love.

Red, White, Blue & You "Our wedding colors were red, cream, silver and blue but we had to play up the silver because it started to look like a flag," Akida says with a laugh. The couple enlisted the expertise of Philadelphia wedding planner Kathy Bado to help execute their vision. "She was good at keeping me on my timelines," Akida shares. There were several unique touches throughout the day including the singing of a small gospel choir during the ceremony. Ken says, "It was truly the joining of two families; we have a lot of support." Planning her big day was a fulfilling experience shares Akida,"The process was a joy. I had a great time planning our wedding."

Akida's Money Saving Tips for Future Brides:
Family Affair: "Ken's stepmother decorated the broom we jumped over in the ceremony and she and my mom 'blinged out' my headpiece," says Akida. Not only is tapping into the talents of your loved ones for your wedding day frugal, it can also be a bonding experience.

Functional Fashion: Try to limit the amount of bridal-specific items you purchase for your wedding like Akida did. "I chose shoes that I would want to actually wear again," she says.

Recycle, Recycle: Take advantage of as many opportunities as possible to reuse items. "The reception centerpiece flowers were also used in the ceremony," Akida reports.
Take a look at past Tie the Knot Tuesday features here.
***Did you or someone you know recently tie the knot? Complete this brief form and the wedding just might be featured in an upcoming Black Bridal Bliss feature!***