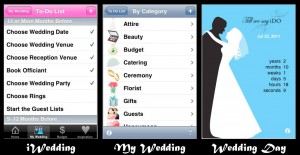 If you read my Valentine's Day post, you'll know that I recently got an iPhone 4.  Contrary to popular belief, I didn't get it solely for the apps. I loved my BlackBerry, but I grew tired of its lack of functionality. I can't lie though, the apps on the iPhone are fantastic, especially the wedding planning apps. Smartphone apps are worth considering and can help you reduce your wedding planning stress. The good news:  If you've got an iPhone, there's an app for that! More than enough. The bad news: If you've got a BlackBerry, your options are limited. Here are a few I like:

iPhone
My Wedding: Manage every aspect of your wedding event to make sure nothing gets neglected.
iWedding Deluxe: Plan every little detail about your wedding with iWedding Deluxe. Track what you need to do to throw a dream wedding event. Manage your guest lists and wedding activities like a pro.
WeddingScan: A powerful wedding registry application for couples to register all kinds of stores at stores and have them uploaded to their online account.
Shape Bride: Whether you're trying to lose weight, firm up, find the right dress, or simply make it to your big day without losing your sanity, the latest Shape app can help you get it all done-with style.  Shape Up For Your Wedding goes beyond the typical workout app. You'll get exercises, sure, but also fat fighting-food recipes, eat-right tips, strategies for finding the right gown for your body type, a six-month beauty countdown, and more!
BlackBerry
Wedding Organizer: Offers categories of tasks and suggestions for prioritizing their completion.
Wedding Checklist: Helps you create and save individual lists, choose from their suggested list entries, add your own, and see your progress immediately.
Wedding Vows: If you haven't started working on your vows yet, this app may help.  View a  catalog of sample wedding vows by category or keyword search.
I have to share how challenging it was to find consumer reviews for BlackBerry's apps.  If you're using these or any others, I'd love to hear your thoughts.
Special Mention: By the way, if you're using Google's wedding planning tool I covered in last week's post, you may have discovered that you can access and edit your site using your Smartphone browser. All of the numbers and email addresses would be live on your phone, so you can contact anyone with a simple tap.  Everyone is literally on the same page. No reason for you to run home to your computer if someone calls with a question. The same thing goes for your budget, guest list and table arrangements; anything you build in Google docs can be viewed on your phone. Fabulous!
What's your favorite Smartphone app?