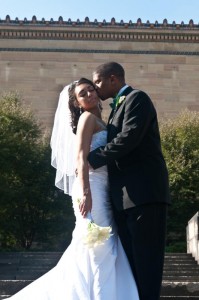 Bride: Fay Reynolds, 28
Groom: William Dunbar, 26
Occupations: Reynolds, recruitment manager; Dunbar, education program director
Homebase: Pennsylvania
Wedding Date: September 25, 2010
Wedding Location: Ceremony: Bright Hope Baptist Church; Reception: Crowne Plaza Hotel (both in Philadelphia)
Business Casual Young professionals Fay and William did not expect to meet their soul mate at a Philadelphia networking event a couple years ago. But that is exactly what happened. "He asked for my phone number," recalls Fay. "I didn't have to have my guard up with him," she says. William was equally impressed by Fay's down-to-earth spirit. "She is definitely beautiful but I really appreciated that she was different from the other women I had met at those types of events in Philly," he shares. "She was open to conversation and quick-witted," he adds. Shortly after getting Fay's number Will asked her out and the two hit it off.
Ying to My Yang The more this pair got to learn about each other, the closer they became. "Fay is supportive and a go-getter. She's already accomplished a lot in her life. That kept me intrigued," explains William. Fay was also smitten but truly knew William was the one after they celebrated their first Valentine's Day together. "He planned a special weekend for us in Atlanta and captured all of my favorite things. I knew then that he really got me," says Fay. William is also the father of two sons, ages 5 and 6. The couple's transition into a blended family was surprisingly smooth. "There was never any anxiety about becoming a [step]mother," Fay admits. William enlightens, "Boys tend to build their characters from their fathers. My sons interaction with Fay was based on my energy towards her."

[cincopa AkAAMcqt7yvc]
[All images excluding honeymoon pic by Joshua Black.]

A Prayer Answered William feels as though God placed Fay into his life. "She's loving and affectionate. In past relationships, I was always the lovey dovey one," he says with a laugh. This was just one of the many reasons he decided to ask for Fay's hand in marriage. "Since her father passed away I made sure I had her mother's blessing," he shares. Once he received the green light from Fay's mom, William proceeded to plan an intricate proposal at the restaurant where he and his beloved had their first date. He even enlisted the help of her friends. Surrounded by loved ones, rose petals and lilies — her favorite flower — Fay accepted William's proposal. "It was a very happy moment," she remembers fondly.

A Night to Remember The Reynolds – Dunbar wedding was filled with special touches that were hand-picked by the couple including a solo by R&B vocalist Carol Riddick. Another highlight for the couple was the photobooth at their reception. "Our guests had so much fun with it!" says Fay. However William's fondest memory of the day was his sons excitedly telling wedding guests that Ms. Fay (who is now expecting) was going to be their stepmother. "I didn't even tell them to say that," he shares with a chuckle. Ah…from the mouths of babes.

Fay's Money Saving Tips for Future Brides:
Don't Believe the Hype: "The bridal industry capitalizes on the fact that wedding planning is very emotional," explains the savvy bride. Keep a level head as much as possible to be sure you don't get got!
Get Techy: Fay sings the praises of the I Do Wedding computer software. "William found it. It was our saving grace and kept us organized. It is much more detailed than an Excel spreadsheet," she says.
Stay Focused: Fay is blunt about the sacrifices she and William made in order to have their wedding. She reveals, "We had to be very disciplined about our spending. We hardly ate out. Practically all of our money after paying bills went towards the wedding."
Take a look at past Tie the Knot Tuesday features here.
***Did you or someone you know recently tie the knot? Complete this brief form and the wedding just might be featured in an upcoming Black Bridal Bliss feature!***