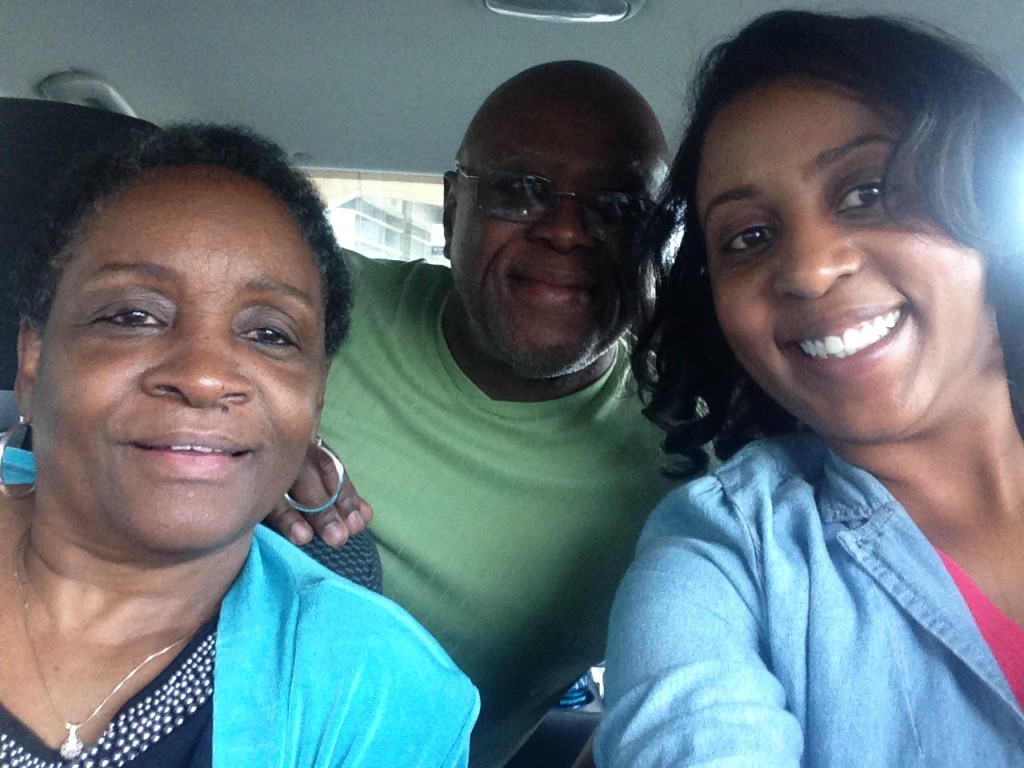 In true control freak fashion, I insisted in being a part of the wedding wardrobe selection process for my parents. My parents, wanting nothing to do with a bridezilla moment, put up no fight. My grandmother even recommended I help to avoid any problems if she chooses incorrectly. With that sole purpose in mind, I booked a trip from Los Angeles to Kansas City.
My father's attire was easy. Since he'd be walking me down the aisle he rented a tuxedo along with the other gentlemen in the wedding party. The good people at Men's Wearhouse suggested the guys get fitted by May 26th. Although my father did not make the deadline, he made sure to get fitted prior to my arrival into Kansas City (again trying to avoid a bridezilla moment). During our father-daughter dinner date, he proudly showed me his receipt and informed me that he'd arranged to pick up his tuxedo in Los Angeles. With over 30 locations within a 40 mile radius of my zip code, I was concerned (especially since he had no idea which location he had selected). After a quick call to customer service, my concerns were handled and his tux will be ready for pick up at the location 4 miles from my house.
My grandfather was also surprisingly easy, despite my grandmother's initial concern that he may no longer be able to fit a tuxedo he'd purchased over five years ago. She insisted that I have him try on the tuxedo. I thought he'd be reluctant, but he obliged with no hesitation. Five minutes later, my grandfather proudly came out of his bedroom donning his tuxedo that fit perfectly. He then proceeded to model and flex and state how his new hobby of cycling has definitely paid off. He didn't get off that easy though, the next day I insisted that we go to the mall to search for him a new shirt, and a vest and tie that matched my grandmother's dress. He resisted but eventually my charm (and promise of lunch) paid off.
My grandmother took an entire day, half a tank of gas and a visit across state lines before we were both happy with her selection. My first choice of shopping was Nordstrom. However, the closest Nordstrom to us is in a neighboring state. In order to appease my cousin Jana, I reluctantly agreed to go to a mall closer. But before our shopping excursion (and totally against logic) we stuffed our face with BBQ at my favorite hometown stable, Gates Barbeque. Once full to the brim, we forced my grandmother to try on dress after dress. Once we'd exhausted all the options at mall number 1, we ditched Jana and headed to Kansas to visit Nordys. Within minutes I had several dresses in hand for her to try on, and the sales associate started us a fitting room. Four dresses in we finally found one that we both liked and was excited about. It was exactly how I pictured my grandmother looking at my wedding. She looked elegant and gorgeous like this was her day too, and essentially it was! She'd played a major role in making me the women I was and the wife I was going to be and I wanted her to feel special on this day just like me (except not in a white dress). We're both ecstatic about her selection and can't wait to play dress up in July.
Read Nicole's last Road to Mrs. post here!