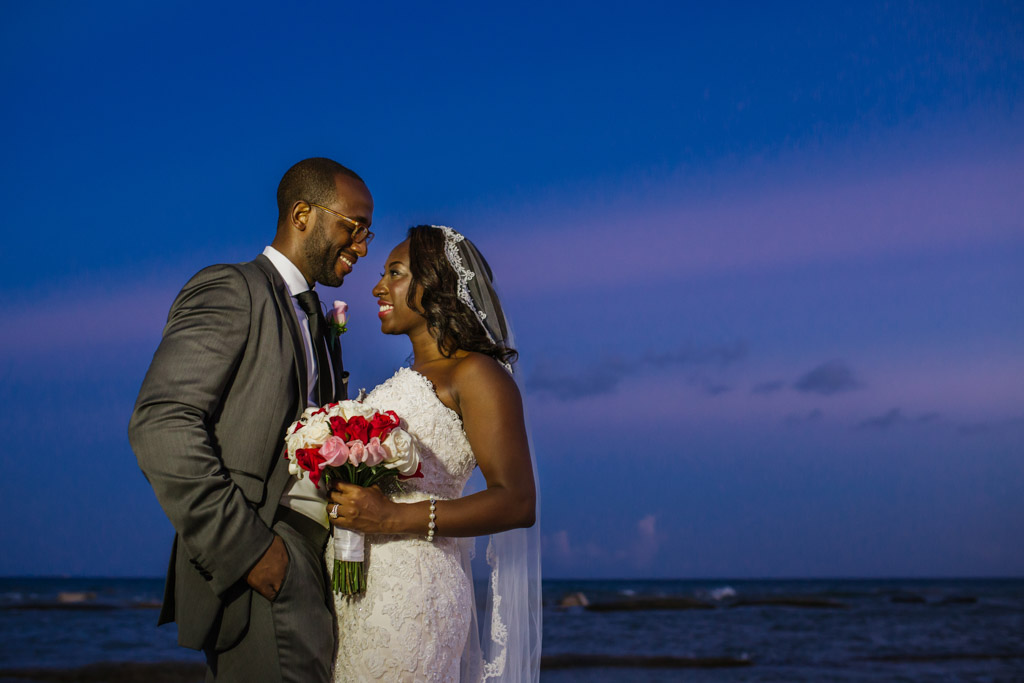 Couple: Alicia and Yao
Wedding Date: October 11, 2014
Wedding + Reception Location: El Dorado Royale, Rivieria Maya, Mexico
Wedding Theme: Vintage Paradise
Friends Before Lovers "We met in D.C. at a lounge the summer of 2009. We started out as just friends," recalls Alicia when asked how she and her husband Yao met. "Yao was living in Charlotte and I was in Baltimore," she adds.  Yao chimes in, "I thought Alicia had a gorgeous smile." The duo were simply friends for a while, not thinking it would go further. Eventually they realized there was chemistry beyond a platonic friendship. "We decided to make our relationship official on New Year's Eve of 2011. I received a great job opportunity in New York during 2012, where Yao was then living." The rest is BlackBridalBliss.com history!
Distance Makes the Heart Grow… "What I enjoyed most about dating Alicia was her conversation," Yao explains. "It was always a challenge for me to find someone to speak with that could provide honest and great advice." Alicia was equally smitten with Yao. "When I saw myself growing as a person and us growing together, I knew I was in love," she says. "Yao never held back telling me how much he believed in me." Alicia and Yao learned to overcome hurdles as a unit while dating, too. "Our challenges have ultimately made us stronger because we've been able to focus on why we truly love each other.  Yao is one of the most ambitious people that I know, which has pushed me," shares Alicia. She continues," The sacrifices we've made for one another will only [help us] in the future."
[cincopa AsFAWO8vaIWR]
[All images by Freddy Ku of Juan Navarro Photos.]

A Walk in the Park August 13, 2013 is a day Alicia will never forget. That's the day Yao asked for her hand in marriage. The couple was strolling in Central Park after work one summer evening as they often did while they resided in nearby Harlem. Yao got down on one knee to do the deed. "All I could hear were passersby saying, 'Oh my God how sweet! Say yes!'," Alicia remembers. "I actually had bigger plans. Initially I wanted to take her to an Asian restaurant and have a custom fortune cookie created that stated" Someone will propose to you soon."  That was close to impossible to find, so the second solution was taking her to Central Park," Yao confesses. Either way, Alicia said yes. Mission accomplished.

Tropical Delight "We chose a destination wedding because we fell in love with the idea of spending a weekend celebrating the next phase of our lives with loved ones. We knew we could get more "bang for our buck" and have nuptials that were unique plus feasible," Alicia says about her and Yao's decision to wed in Mexico. She elaborates, "We loved being able to marry in a cultured environment. Playa Del Carmen has kept so much Mayan history. We opened our guests up to a new place and several have already planned trips back." The couple had an outdoor evening affair with the Caribbean Sea as their backdrop. Yao shares that his favorite part of the day was the ceremony because, "It allowed us to focus on each other." And what's his focus now that he and Alicia are husband and wife? "Impacting the world and helping humanity in a very meaningful way." 

Alicia's Budget Bridal Tips for Future Brides
Make the Web Your Friend "Amazon.com is great to buy items in bulk. We gave our guests welcome bags/survival kits. They included sunglasses, Advil, etc. We were able to get these items for cheap on Amazon. Other money-saving sites for brides include Etsy.com and Tradesy.com."

Be Bank Smart "Create a joint-account specifically for the wedding immediately with automatic transfers. Yao and I had the same bank, [so it was seamless for us]."

Negotiate, Negotiate "Do not be afraid to negotiate! I was able to simply ask for what I wanted from vendors and to my surprise, most of them obliged or met me in the middle."

Alicia + Yao's Wedding Vendors
Hairstylist: Michelle Doesburgh of Honey Salon in Harlem, NY prepped hair before travel. Then maid of honor touched bride up on wedding day.
Makeup Artist: Norma Zurama Peréz Fernández with MAC in Cancun
DJ: Cubie Coleman, also known as DJ Premonition (Fellow Howard Bison)
Wedding Gown: Maggie Sottero
Shoe Designer: Badgley Mischka
Bridesmaid Dress Designer: Mori Lee Bridesmaids
Groom/Groomsmen Tuxedo Designer: Hugo Boss
Photographer: Freddy Ku of Juan Navarro Photos
Wedding Planning: Weddings by Lomas Travel + Erin on site at El Dorado Royale
View Alicia and Yao's NYC engagement session here.
Take a look at past Tie the Knot Tuesday features here.
***Did you or someone you know recently tie the knot? Complete this brief form and the wedding just might be featured in an upcoming Black Bridal Bliss feature!***