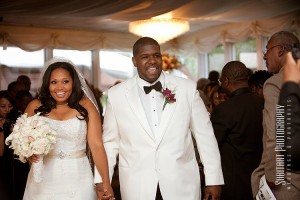 Bride: Celine Dixon, 29
Groom: Orville Martin, 28
Occupations: Dixon: accountant and freelance makeup artist; Martin: hospital clerk and DJ
Homebase: New York
Wedding Date: August 6, 2011
Wedding Location: The Riverview, Hastings on the Hudson, New York
High School Crush Celine didn't expect to reconnect with the man that would become her future husband when she attended a baby shower for an old coach at her former high school five years ago. But that's exactly what happened. "I had a crush on her in high school. She was a varsity cheerleader and I played basketball. When I saw her at the shower, all those old feelings came back," confesses Orville. Celine was intrigued by Orville's warm personality. "He's just as outgoing as I am. He walks into a room and lights it up," she shares. The twosome began talking and learned they had a lot in common. They kept in touch following that fateful day at their alma mater and from there a budding romance began.
Music & Makeup Celine and Orville hit it off and quickly rubbed off on each other. While both young professionals have careers that pay the bills, they also enjoy creative passions [makeup and DJing respectively] on the side. "Orville bought me a MAC gift card and a makeup case. He always says I push him but he pushes me as well," says Celine. Being supportive of one another through life's challenges is also paramount for the couple. "Her grandmother passed away in March of 2007, just two months into us dating," recalls Orville. Celine notes that during her time of mourning he never left her side. Orville adds, "I didn't want to meet her family like that but I did what came naturally." 

[cincopa AsBAj06k1c1F]
[All images by Chad Pennington of Sobitart Photography.]
Be sure to view Celine and Orville's touching wedding trailer!
Southern Hospitality Celine held her beau down through his life's valleys as well. "When we met I was in graduate school and she supported me 110%," Orville brags. He continues, "As a man I have pride, but as a student I didn't always have money. Celine has never made me feel less than. She helped me [financially] when we went out; we still stepped out like Jay Z  and Beyonce. " Celine saw the bigger picture. "It wasn't like Orville was a bum dude. He was trying to better himself," she explains. Her ability to see past the present convinced Orville to ask for her hand in marriage. But he had to check in with the 'rents  — who have been married forty years — first. "I'm a southern girl so he had to ask my parents for their permission," expresses Celine who has Alabama roots. Orville obliged. "I dressed up in my suit and asked her brother and both of her parents for their blessing," he remembers. Soon after, at a Mother's Day family bar-b-que surrounded by loved ones, Orville proposed. And Celine happily said yes.

Purple & Platinum "Purple is my favorite color!" announces Celine adding that her birthstone is amethyst. She continues, "I'm not really a gold kinda girl." Thus her decision to go for a purple and platinum color scheme for the big day. DIY [do-it-yourself] was crucial to ensuring the couple had the wedding of their dreams and bank accounts. For example, the bride's mother made her veil and decorated the couple's broom for their ceremony. The day was one the newlyweds will never forget and both agree wholeheartedly that the most memorable part of their reception was dancing to "The Wobble" with their guests. Now that all the bridal dust has settled Orville is still convinced he made the right decision. "Celine encompasses what a woman, wife and mother should be. I knew early on that I wasn't gonna let her go."

Celine's Money Saving Tips for Future Brides
Prioritize "Take at least take one-two days out of the week to not do anything wedding-related related with your  fiance," suggests Celine. Follow Celine and Orville's lead to ensure your wedding planning doesn't take over your life. You will likely make more sane financial decisions this way.
Nix the Peanut Gallery Don't let the opinions of loved ones (who may have the best intentions) send you to the poor house. Celine shares, "You can't please everybody. Plus some people just want to be nosey." Do what works best for you and your financial situation only.
Be a Budget Babe Celine warns future brides to realistically set and keep a budget, understanding the difference between wants and needs. "We didn't need a 10-course meal at our reception so we negotiated for six," Celine says. She adds, "Remember to budget for every aspect of your wedding, even the wedding bands."
Take a look at past Tie the Knot Tuesday features here.
***Did you or someone you know recently tie the knot? Complete this brief form and the wedding just might be featured in an upcoming Black Bridal Bliss feature!***