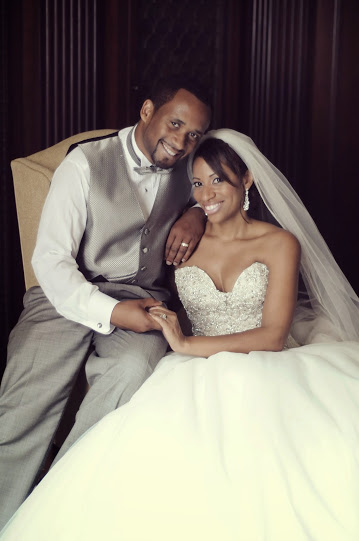 Couple: Kesha and Steven
Wedding Date: August 31, 2014
Wedding + Reception Location: Grand Historic Venue, Baltimore, MD
Wedding Theme: Easy Elegance
Second Chances Newlyweds Kesha and Steven got a second chance at love. "We [unofficially] met at a party a year before we formally met," Steven recalls. "I just shook Kesha's hand and continued to party with my date. We were noticed at the party for dancing the hardest!" After his buddy Lyncoln announced his engagement, Steven felt the itch to settle down too. "I told Lyncoln I was ready to meet a good woman and he suggested his future sister-in-law," shares Steven. From there the matchmaking began and pics of the couple were exchanged. Kesha confesses, "He looked better in person than his pictures."The duo eventually met over dinner. This time sparks were lit.

Freedom to be Me "I'd never met a man who had no problem voicing his wants in a relationship," explains Kesha. The couple shared many interests like performing arts, an appreciation of family and traveling — their jaunts while dating include locales such as Costa Rica, Nicaragua and Jamaica. Says Steven, "I fell in love with a spectacular woman from a spectacular family. They embraced me. It was great to learn about her Caribbean culture. (Kesha is from Dominica.) I realized both of our families have strong bonds that are dying in a lot of African American families. It helped toward my ultimate decision to propose."
[cincopa AUDAiF8W2yL2]
[All images by George Street Photography, excluding honeymoon pic.]
School Daze "Our relationship began at the start of my specialty program," admits Kesha who recently opened her own dental practice, Parker-Gray Pediatric Dental Care, in Northern Virginia. "I think it was harder on Steven, because I spent a lot of time studying when ideally we would be getting to know one another. Steven hung in there." Over time, Kesha recognized how important Steven had become to her. "I realized I was in love with him when our heated discussions or arguments left me with the biggest emptiness I had ever felt. The thought of not talking to or seeing him let me know how important he was to me. What we have is much more than a romantic love but a love built in friendship. "I knew Kesha was the one because when the chips were down, she was always there for me," says Steven.

Surprise! Steven popped the question by surprising his love while she was away for work. "I lead Kesha to believe I was flying to L.A. for a party with my friends instead of going with her to Orlando for a conference," Steven says. His plan to catch Kesha off-guard succeeded. "I couldn't comprehend how he could be in Florida when he was supposed to be in California! It took nearly an hour for it to sink in. He definitely surprised me and his words were beautiful," recalls Kesha. She blissfully accepted the proposal.
Life Partners Once returning home to Maryland, the pair decided to get hitched at the Grand Historic Ballroom where Kesha shares the couple cut costs by hosting their ceremony and reception in the same location. "It saved money on transportation," she reports. The Labor Day Weekend affair was a joyous occasion for all in attendance. "We surprised our guests with a tango dance to the Argentinian song, Santa Maria del buen Ayre [during the reception]," says Steven. "The day included many memorable moments but my favorite was when the pastor announced us husband and wife. "I had this calming feeling come over me: Yes, this is my partner for life." The adventure loving newlyweds culminated their wedding festivities by honeymooning in Fiji and Hawaii.

Kesha's Budget Bridal Tips for Future Brides
Favor for Favors "A family member donated our favors — traditional island black cake — also known as fruit cake. I was going to eliminate them all together."
Sunday Funday "Our wedding was on the Sunday before Labor Day. Having it on a Sunday decreased the price."
Reuse and Recycle "We repurposed all the flowers used during our ceremony for tables at our reception."
Kesha + Steven's Wedding Vendors
Hairstylist: Nathalie Stephenson
Makeup Artist: Sandra Jones
Florist: Davinci Florist
Caterer: Grand Historic Venue
Cake: Baltimore Cakery
Videographer: Ray Estrada
Shoe Designer: Glint
Jewelry Designer: Zales (rings)/Saks Fifth Avenue (necklaces and bracelets)
Bridesmaid Dress Designer: Sorella Vita
Groom Tuxedo Designer: Calvin Klein
Photographer: George Street Photography
Take a look at past Tie the Knot Tuesday and (Not Quite) Tie the Knot Tuesday features here.
***Did you or someone you know recently tie the knot? Complete this brief form and the wedding just might be featured in an upcoming Black Bridal Bliss feature!***