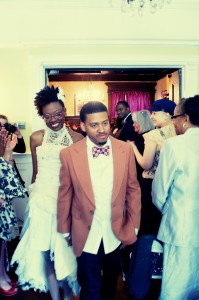 Bride: Lesley Williams, 33
Groom: Kamau Ware, 36
Occupations: Lesley, fashion blogger; Kamau photographer
Homebase: New York
Wedding Date: April 30, 2011
Wedding location: ceremony and reception: Serentiy at Home Guest House, Brooklyn, NY

The Art in You Lesley, a Michigan native, had recently moved to Pittsburgh for a new job and wanted to purchase a painting for her place. "It was my first time buying artwork so several friends suggested I check out a gallery near my apartment," she explains. When she finally made her way to said gallery, Lesley met Kamau who was running the space along with a friend. Kamau helped Lesley choose a painting and shortly after stopped by her abode to drop it off. "We stayed up until 5:00AM the next morning talking," recalls Kamau. Needless to say the twosome hit it off but were strictly platonic in the beginning. "We denied being a couple at first. Our friends saw [our relationship blooming] before we did," remembers Lesley. 
If We Can Make It There Once they began officially dating, Lesley and Kamau became inseparable. "Kamau would bring food over to my place and cook for me," swoons Lesley. Kamau echos this sentiment saying, "We couldn't stop spending time with each other." In 2006 the couple moved to New York after Lesley accepted a job offer in the city that never sleeps. "Moving to New York together was a milestone for us," shares Lesley. Not only was it a power career move for Lesley; being in New York allowed Kamau to spend more time with his now 13 year-old son, Asis. Lesley admits one of the things that attracted her to Kamau was witnessing how he took care of Asis. And Kamau shares, "When I saw how Lesley interacted with Asis I knew she was the one."
[cincopa A0HAVoau5ya4]
[Images provided by Rhiannon Marino, Kamau Z. Akabueze, and Gabriel Barron]
Family Matters Like any family — blended or not — Lesley and Kamau encountered their share of up and downs. It took hard work and patience for Lesley and Asis to work through their kinks. As Kamau's girlfriend, it wasn't always easy for her to gain Asis's respect as an authority figure. "I used to cry and get really upset," whispers Lesley. "It was a hurdle for the first couple of years and it is still a process," Kamau states. The challenges ultimately made them stronger collectively and individually and in 2009 on the heels of a mutual friend's wedding, the couple got engaged and then tied the knot this spring at a quaint Brooklyn bed and breakfast. Kamau says proudly, " Now we're all Wares!" 
Thinking Outside the Box With two creative souls coming together, it is no surprise that the wedding of Lesley and Kamau was bursting with unique and artsy details. The couple opted to host both their ceremony and reception at the Black-owned Serenity at Home Guest House. "We had a classic, at-home old-school wedding," explains Kamau. Most of the couples out-of-town guests stayed at the B&B as well. The duo wanted their wedding to have a "down-home" appeal and they certainly pulled it off. For their reception brunch (Lesley and Kamau host monthly brunches at home), guests dined on an array of southern cuisine from Soul Fixins including grits, blackeyed peas and rice, macaroni and cheese, fried whiting and red velvet cake. And although ensuring they planned a wedding that truly represented "them", Kamau shares this wisdom with future nearlyweds, "Don't lose sight of your relationship in the midst of your wedding planning."
Lesley's Money Saving Tips for Future Brides
Consider a Minimoon! Funds not in place for a traditional honeymoon right after the wedding? Don't fret, try a minimoon like the Wares and take your dream vacay at a later date. "We turned off our phones; everyone thought we were gone!" says Lesley chuckling.

Think Past the Reception
Don't assume that renting is less expensive than buying. The Wares purchased reception plates and mason jars wholesale instead of renting them and they've already used these items post-wedding since the couple entertains with family and friends so frequently.
DIY Diva Lesley and Kamau created practically everything for their nuptials including programs, favors and bowties for the groomsmen (which doubled as their gift for participating in wedding). In addition to saving money, rolling up your sleeves when planning your big day helps give the affair a personal touch.
*BONUS* Lesley shares, "We forgot to tell our guests not to upload wedding photos to Facebook, Twitter, etc. until after we published our professional pictures. We wanted to be the first to post our wedding pics." Perhaps adding this small request to your wedding program is beneficial for your social media-addicted loved ones. 
Take a look at past Tie the Knot Tuesday features here.
***Did you or someone you know recently tie the knot? Complete this brief form and the wedding just might be featured in an upcoming Black Bridal Bliss feature!***