Remember Road to Mrs. blogger Nadine who shared her ups and downs of wedding planning with Triple B last year? Well, she's officially a Mrs. now! I personally know candidly opening up in her blog wasn't always easy for Nadine but she was committed. Read, view her stunning pictures and show her and her hilarious husband Sean support of their glorious new union in the comments.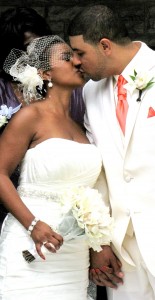 Bride: Nadine Gooden, 35
Groom: Sean Mauricette, 33
Occupations: Gooden: Writer/Blogger/Executive Assistant Mauricette: Musician/Entertainer/Motivational Speaker
Homebase: Toronto, Ontario (Canada)
Wedding Date: September 4, 2011
Wedding Location: Ceremony: Timothy Eaton Memorial Church, Toronto; Reception: Mariposa Belle Boat, Toronto Harbourfront

Digital Dating "We met on BlackPlanet.com and realized we lived five miles away from each other," shares Sean when asked how he first connected with his wife, Nadine. While many singles are leery of finding love on such sites, this pair was discerning from the start. "She wasn't into playing games," he says. Nadine was pretty smitten with Sean from their first date. "We went for hot chocolate. He was good-looking, considerate and a gentleman," she recalls. The physical attraction was definitely mutual. Says Sean with a laugh, "She actually looked like her photo — she was fine! Like Nia Long in Friday kinda fine." By date two sparks were officially flying.
You're a Keeper It didn't take long for Nadine and Sean to realize they enjoyed spending time with each other. Simple things like going on walks together near a local lake became one of their favorite pastimes. "I knew he was special by our second date," Nadine gushes. "I let Nay know right away that I wasn't a baller and didn't have a lot of money but not because I'm a bum but because I'm an entertainer and I'm trying to work with youth," confides Sean. Nadine's support of Sean's creative passions were real. She allowed him to build a a studio in her apartment. He shares, " Nadine paid attention to little things I like such as gummy bears."I thought to myself, 'Who am I kidding?' She's a keeper," says Sean.

[cincopa AkFA0wKMQ3uR]
[All images courtesy of Shannon Boodram Photography; excluding honeymoon pic.]
Family Business Not everything was pie in the sky for the young couple in love. Nadine and Sean's mother were born a day apart and often bumped heads. "Sean is the youngest in his family. His mother is very protective of him," Nadine admits. "My family was very testing of our relationship, " remembers Sean. Nadine agrees and says, "We learned that we had to focus on ourselves as a couple." Nadine also has a teenage son, Marsalis, from a previous relationship. Prior to meeting Sean, Nadine experienced men be less than supportive of her as a single mom. "I was so tired of guys judging me and my situation." But Sean intended on sticking around for the long haul and the couple didn't let past disappointments or even present hurdles to stifle their growth as a couple.

Water Wonders Sean noticed that Nadine was intrigued by St. Lucia courtesy of the reality show, The Bachelor. He attempted to propose on the Caribbean island (which ironically is where his family is from) but concluded that it was too expensive. So instead he treated his sweetie to a birthday vacation to Cuba, where they stayed in a part of the country called St. Lucia. After a romantic dinner and horseback riding, Sean asked Nadine to be his wife…and she said yes! "I was walking on clouds!" beams Nadine of Sean's proposal. Before nearly 200 guests, the couple said I Do in their hometown of Toronto last Labor Day weekend. The affair was an event to remember, complete with a reception on a huge boat. As for life after the wedding Sean admits, "It's the same [now that we're married] but we feel a lot closer. I'm not just living for myself anymore — I've caught that Papa Bear syndrome."

Nadine's Money Saving Tips for Future Brides
Remember the Sabbath Nadine and Sean got hitched on a Sunday which saved them mucho cash. Keep in mind that vendors and venues typically charge top dollar for Saturday functions.
Man with a Plan "Sean is good with photoshop and design software," explains Nadine when offering that her husband produced all their table numbers, escort cards and such. Tap into the talents of your loved ones to save big, too.
Remember Murphy's Law "Recognize that some things will go wrong. The best man tripped with the rings; it was funny and memorable," agree the newlyweds. The wise pair warn feature brides and grooms to prepare as much as possible leading to the big day but after that "let go and enjoy". Keep in mind that unnecessary worrying often costs couples to go over-budget.
Take a look at past Tie the Knot Tuesday features here.
***Did you or someone you know recently tie the knot? Complete this brief form and the wedding just might be featured in an upcoming Black Bridal Bliss feature!***