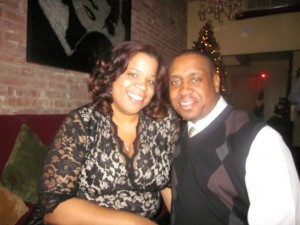 Triple B's last Road to Mrs. blogger Nadine is officially hitched and she has passed the baton to drumroll please… Jene Jackson. Read Jene's candid love journey below and come back every Thursday for her musings on wedding planning. Enjoy!

As a 36 year-old single mother of an 18 year old, marriage was truly the furthest thing from my mind. I would be lying to say I never thought about it. As more of my girlfriends started taking the march down the aisle I did have those "always the bridesmaid never the bride" moments. However as time passed I settled into a comfortable life. I had a very satisfying social life, plenty of great sister-girlfriends, and was by no means a wallflower. Men and dates were never hard to come by. I was fine with this, I just figured marriage was not in the cards for me and I would live as a fabulous single woman enjoying life. But on a September evening five years ago I met him, Royshawn Harrison, and before I even realized it those plans changed.
I could say over a romantic candle lit dinner he got down on one knee and asked me to be his bride, but NOT. There is no tear-jerking "Notebook" worthy engagement story to tell.  What our story lacks in emotion evoking melodrama, we make up for in syncompado-communication and understanding. It went more like one day while hanging out at home cracking jokes, playing the dozens and just relaxing, he said, "We have so much fun together. I love you and can see myself growing old with you, pushing you in your wheelchair. We should get married." And voila we were engaged. No ring. No candlelight but filled with more love than I could have asked for. It was honest. So after five years of being inseparably joined at the hip we decided to make the leap and jump the broom. Shawn is my best friend, I know it sounds UBER corny but it is what it is.
We have chosen September 9, 2012 to tie the knot, but here is where it gets sticky. I was never the little girl who sat for hours imagining and planning my dream wedding day. I am a more go with the flow kind of girl. I would have been pleased as punch to head to City Hall with my man, my band of gold and call it a day. A scenario Shawn was having none of. He wants the pomp and circumstance with all the bells and whistles, surrounded by everyone we have ever known. He wants me in a white dress walking down to meet him at the altar. You can clearly see which one of us had the childhood wedding daydreams. Ultimately we have reached a compromise; we will scale back the guest list, stick to a strict budget, but make sure we have a day we both can remember for a lifetime.
So now I have 8 months to trim my ample plus-size frame down to more manageable wedding dress proportions. I have always been a big girl, I own it, I celebrate it; so getting stick model thin is not the goal. I just want to look and feel as beautiful as possible on my wedding day. Besides, all he has talked about since we decided to get married is seeing in my dress coming down the aisle, and I want to give him and image he will never forget.