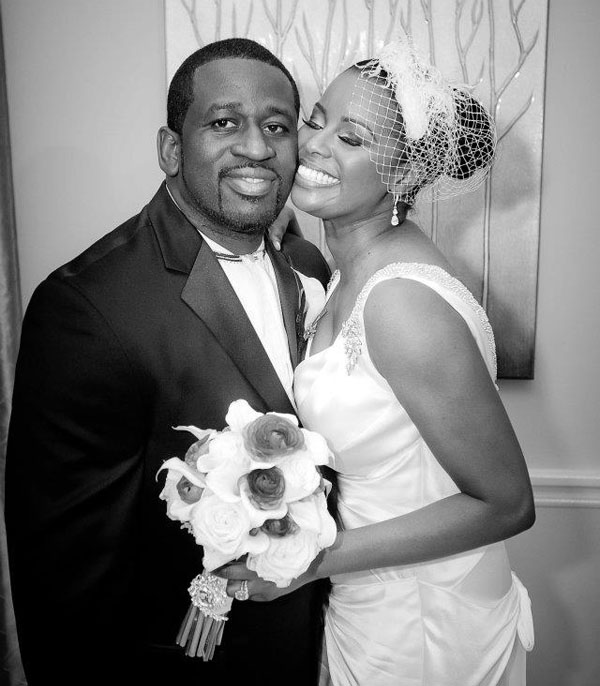 Bride: Natalie Nagthall, 36
Groom: Kizito Ssensalo, 32
Occupations: Nagthall: product development engineer; Ssensalo: software engineer
Homebase: California
Wedding Date: March 9, 2012
Wedding Location: (ceremony and reception) Southern Oaks Plantation; New Orleans, LA
First Impressions An impromptu meeting of friends brought Natalie and Kizito together years ago in the U.S. capital. "I was attending the Alpha Kappa Alpha Sorority, Inc. Centennial Conference in Washington, D.C. My soror and I were rooming together and invited a friend to visit us at our hotel. He asked if he could bring a friend since they were heading to the club afterward. We agreed but told him we were in our pjs and our heads were wrapped up so not to expect us to get all dolled up. "I thought Natalie was absolutely beautiful," reveals Kizito. Natalie recalls, "We all had so much fun together that they never made it to the club." "I kept leaning over so I could see her more. I was eager like a little kid," Kizito adds.
Cross Country Love "I boasted that I could read, do basic arithmetic and I had not been incarcerated in the past 6 months so she should hang out with me. She laughed and gave me a date," shares Kizito. "He was hilarious," says Natalie. Kizito's humor won Natalie over and after their first brunch date shortly after meeting, the two became an item. "We met in D.C. where I lived at the time and Natalie lived in Los Angeles. We dated between D.C. and Los Angeles for a while before I slowly began to transition back to LA," Kizito remembers. "We were inseparable," adds Natalie. By the fall of 2008, we were officially in a relationship. By that December, we went on a vacation to Europe (Ireland, England, France and Spain). It was amazing. By the time we hit our one year mark, we were already holding hands and making plans," Natalie explains.
Through the Good & the Bad "Around 2010, it seemed like we were arguing about a variety of things. We knew we wanted to be together but we were going through a rough patch. In the fall of that year, we really had it out and I wasn't sure what was going to happen to us," admits Natalie — a divorcee. Eventually the pair met with open hearts and no nonsense. "We discussed what we were going to do better moving forward and what we were not going to do. From then on, I felt like our relationship changed for the better," Natalie shares. Kizito says further, "I [also] had a bad year financially. As we were moving forward with our relationship many plans were put on pause because I was not financially fit. Natalie was very supportive and took everything in stride. We eventually made all our plans work."
[cincopa AQGAS76rcVto]
[All images by Matthew Foster.]
The Ultimate Cross Cultural Couple In March 2011, the duo planned a trip to nearby Santa Barbara — or so Natalie thought.  "I noticed he took a detour to LAX airport," Natalie reminisces. A confused Natalie was even more stunned when she and Kizito arrived to the Emirates Airlines terminal. "Kizito pulled out my passport to check me in. Everyone seemed to be in on the surprise," she recalls. The couple took a whirlwind trip to Dubai and Sri Lanka — the latter because it was the birthplace of Natalie's deceased father. "I was overjoyed and overwhelmed by the entire experience," shares Natalie who was very close to her dad before he passed and had always wanted to visit his place of birth. It was there that Kizito asked Natalie to be his wife and she gladly accepted. "I wanted to show her that a life with me would be filled with surprise, adventure and awe," Kizito explains. Natalie confesses, "It was an experience I'll never forget!"
Meet Us in Nawlins! Clearly the couple enjoys traveling so their destination wedding wasn't a surprise. But the pair had specific reasons for wanting to tie the knot in New Orleans. "It was more affordable than Los Angeles so we could invite more people and we thought it would be great to put money back into the city of New Orleans," explains Natalie. Planning her nuptials this time around was more stressful than her first time as a bride. "This time, I have more things going on in my life and we also were buying a house in the process. That is very hard to do at the same time! It is also harder to plan something in another state." But the beaming bride has no regrets. "I would get married in New Orleans all over again. It was fantastic. Our guests are still talking about how much fun they had at our wedding."
Natalie's tips for saving money on your wedding day!  
Look Around, Look Around: "I purchased accessories and other wedding day items from the fashion district downtown Los Angeles [for a fraction of the retail cost]. If there is a fashion [wholesale] district in your area, use it!" Natalie warns.
Use Your VIB (Very Important Bride) Perks: "When you're a bride, you get coupons from all kinds of Web sites. Take note of those deals. I was able to buy gifts for my bridesmaids because of great coupons I saw online," Natalie shares.
Cake Boss: "Don't feel like you need to have a slice of wedding cake for each guest. Not all guests will eat cake. Talk to your bakery about using "faux tiers" for some wedding cake layers. Your guests won't know the difference!" advises Natalie.

Take a look at past Tie the Knot Tuesday features here.
***Did you or someone you know recently tie the knot? Complete this brief form and the wedding just might be featured in an upcoming Black Bridal Bliss feature!***