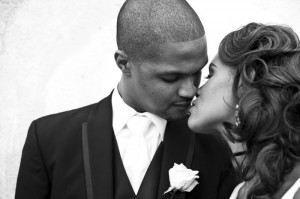 Bride: Rasheeda Shears, 27
Groom: Cory Garner, 31
Occupations: Shears, real estate professional; Garner, human resources manager
Homebase: Georgia
Wedding Date: March 19, 2011
Wedding Location: ceremony and reception: Odd Fellows Building in the Atrium at Sweet Auburn, Atlanta, GA
Drinks on Me? "I offered to buy her a drink and she shot me down," recalls Cory when asked how he met his new wife, Rasheeda. Mutual friends brought the duo together at a sports bar after an Atlanta Hawks game. He adds, "I thought she looked like Freddie from [the former television show], A Different World." "I thought he was trying to sell me insurance (the field Cory worked in at the time) so I didn't think much of him," Rasheeda explains. Although they got off to a shaky start, the twosome ended up chatting the night away and even closed down the bar. After a failed attempt to grab grub at a local eatery they landed at Cory's cold apartment — Rasheeda jokes that his roomies didn't pay the electricity bill — and began an undeniable friendship.
My Motivation Rasheeda soon learned that Cory wasn't interested in selling her insurance and their friendship blossomed into a romantic relationship. "He was so open and honest from day one. It was refreshing," reveals Rasheeda adding that Cory is a "real southern gentleman". Rasheeda also shares she was impressed with her beau's adventurous spirit. "He's open to trying new things — even moreso than I am," she brags. Cory was equally smitten with Rasheeda. "I fell in love with her intelligence and drive. She motivates me to be my best," he says.
[cincopa AQNAgqagA-Ok]
[All images, excluding honeymoon pic, by Ella Rue Photography]
Friends 'Til the End In the midst of their sweet courtship, the couple encountered a few sour periods. "I actually realized I was in love with Cory during a 10-month breakup," Rasheeda shares. "We still spoke daily even though Cory was seeing someone else. Our breakup strengthened us," she says. "Love is a very meandering path; you get there how you get there. Our love wasn't easy, it wasn't perfect. But, it worked its way out," Rasheeda shares. Cory explains, "I knew Rasheeda was the woman I wanted to spend the rest of my life with when I couldn't imagine it without her."
ATL's Finest "I always wanted to get engaged at home with just the two of us," says Rasheeda. And that is exactly what happened. "My plan fell apart, so it was totally impromptu," admits Cory. Rasheeda excitedly accepted Cory's proposal and the couple's wedding planning began shortly after. Before 150 guests in the heart of their beloved Atlanta, Rasheeda and Cory became one. Rasheeda brags about planning their nuptials without the help of a wedding planner. "We felt honored to support some great small businesses through our wedding," shares Rasheeda. A few of these include Three Ring Media videographers, OMG Photobooth (Cory's favorite part of the reception) and indie fashion designer Karolyne Ashley who created Rasheeda's reception dress. What does Rasheeda have to say now that all the bridal dust has settled? "Every night I pray that we get deeper in our love."
Rasheeda's Money Saving Tips for Future Brides
Take Your Time "I booked a venue three months after getting engaged but eventually went with another space. Do not rush, you'll end up causing yourself more [money] in the long run," shares Rasheeda. 

One Woman's Trash… "My garter was made with scraps from one of my wedding dresses by a friend of a friend. I saved $70! Don't be afraid to express your needs and wants," advises Rasheeda.
Paid in Full
Thanks to resourcefulness and careful planning, the Garners are able to concentrate on their marriage now and not worry about dodging wedding creditors.
"We're not still paying on anything.
Cory and I didn't go into any debt, the wedding was paid for in full after the reception," Rasheeda notes.
Take a look at past Tie the Knot Tuesday features here.
***Did you or someone you know recently tie the knot? Complete this brief form and the wedding just might be featured in an upcoming Black Bridal Bliss feature!***