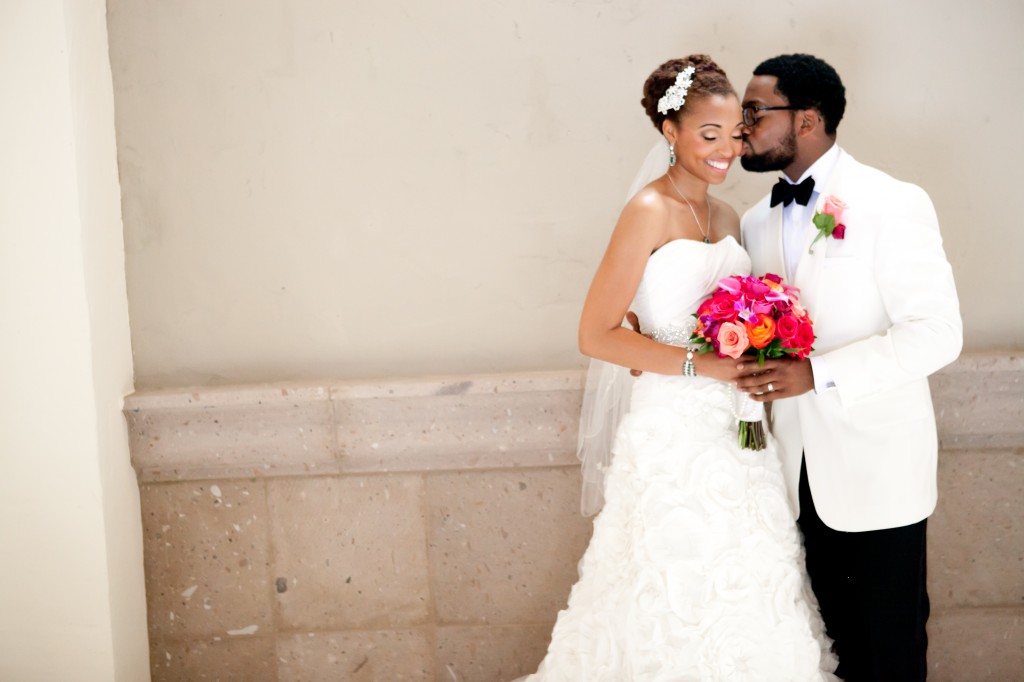 Bride: Stephanie Phillips, 29
Groom: Delano Squires, 30
Occupations: Phillips: federal relations professional; Squires: information technology professional
Homebase: Maryland
Wedding Date: July 28, 2012
Wedding Location: ceremony and reception: The Bell Tower on 34th; Houston, Texas
Is This Seat Taken? When Stephanie arrived at an event hosted by Black and Married with Kids in the spring of 2011, she had no idea she would meet her future husband Delano. Delano at the time was the only single writer for the site and was immediately smitten with his future wife. "The scene was sorta prime for people to meet. I thought Stephanie was beautiful, I found her very attractive," recalls Delano. He adds that she was personable and funny. Delano explains, "She seemed to have a welcoming demeanor." Stephanie says in response with a laugh, "I can be very standoffish so I'm surprised he says I was welcoming. I was done with the whole dating scene."
All of Me Despite being finished with dating, Stephanie decided to give Delano a chance. The duo met in March and had their first lunch date in April. "I enjoyed being around Steph. We went to plays, museums, shows, etc. together. I could be myself around her," Delano admits. He continues, "I think where we both were in life, neither of us had a lot of patience for foolishness." Stephanie was equally smitten with Delano. "He always thinks 'What would Stephanie like to do?' Even in the way he planned our dates." "And he's not judgmental. I can be all the different faces of Stephanie with Delano."

[cincopa AcNA-_64u5vs]
[Images (excluding honeymoon pic) by Khloe Madison.]
Solid as a Rock While dating, Stephanie lost a dear aunt who she was close to and leaned on Delano for support through the grieving process. "My mom's oldest sister was in the hospital. I got a phone call that she had passed but I never imagined her not being here even though she was battling cancer," reflects Stephanie. She says further, "I had no family near me. Delano was my rock. He was just solid. I tend to keep things close but to be able to cry was so healing." Soon after her loss, Delano proposed in the same place where he and Stephanie met. Stephanie accepted and the pair began planning their wedding but were clear about making their marriage the biggest priority. "We did pre-marital counseling through our church. Being able to handle money, resolve conflicts — particularly for me — was a good foundation. Most guys needs tools to communicate," confesses Delano.
Deep in the Heart of Texas Stephanie returned to her hometown of Houston, Texas for a simple yet elegant wedding. 190 guests joined the couple in the charming southern city, including the people responsible for their union — Ronnie and Lamar Tyler, the founders of Black and Married with Kids. Stephanie stresses that nearlyweds should create guardrails to help set realistic expectations when planning their big day. But she quickly adds, "Delano didn't hesitate asking for discounts; we didn't pay asking price for most things." The couple were married by Delano's godfather and recited traditional vows. Stephanie proclaims, "I thought Delano would be a really good boyfriend and now he's my husband. God answered my prayers so I respect our union and [try to] treat it well."
Stephanie's Money-Saving Tips for Future Brides
Day of My Life! Stephanie suggests, "Consider a daytime wedding." She adds, "We were done by 4PM." The same affair will probably costs significantly more in the evening than midday.
Slow Down "If going the DIY route, sleep on an idea before you purchase any supplies, warns Stephanie who admits to wasting funds on placecards and other materials early-on in her planning before ultimately nixing the idea. She says further, "Those items couldn't be returned. It was a waste of money!"

Frugal Fotos Instead of paying for a professional engagement photo shoot, a creative Stephanie and Delano used Instagram images on their wedding website.

Take a look at past Tie the Knot Tuesday features here.
***Did you or someone you know recently tie the knot? Complete this brief form and the wedding might be featured in an upcoming Black Bridal Bliss feature!***