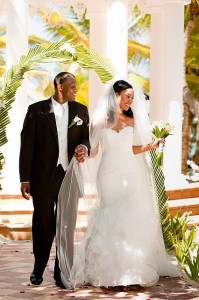 Bride: Lekia Patrice Townsend, 31
Groom: Maurice Izell Ross, 33
Occupations: Towsend, systems engineer; Ross, strategic management consultant
Homebase: Maryland
Wedding Date: April 30, 2011
Wedding Location: ceremony and reception: Riu Palace Hotel; Punta Cana, Dominican Republic

Don't Call Me, I'll Call You "Lekia and I met at South Beach nightclub in Atlanta. She arrived with her friends just as I was leaving," recalls Maurice of his wife. "Due to her height (and good looks) I felt compelled to introduce myself to her prior to my departure," he adds. Maurice continues that he was impressed with Lekia's conversation and wanted to chat her up through the night but she was ready to party. "I was overly talkative and she reiterated 'I am here with my friends. I will call you later in the week," he shares. "At the time he lived in Georgia and I lived in Michigan," says Lekia. "We corresponded by email for weeks before speaking on the phone," she says. "Although our first couple of phone convos didn't go so well, I soon learned Maurice is really easy to talk to." She furthers, "We met in April and didn't see each other again until November when we became a couple."
Distance Makes the Heart Grow Fonder "We flew out to see each other at least once a month," Lekia reminisces. Maurice says, "The long distance added to our relationship and kept everything fresh. We had to take advantage of the time we had," he explains. Although living in different time zones, the twosome became close once they started dating. "Maurice became my best friend. We went to each other first with our issues," Lekia says. "Once when I was in Delaware and she still lived in Detroit, I got sick and went to a Patient First facility for treatment. During my visit, I accidentally left my phone at the site. I didn't have a home phone so Lekia didn't have a way to get in touch with me. She booked a flight to Delaware that same day and knocked on my door that night. While initially I thought she was crazy, it also made me recognize how important I was to her and how much she valued me," Maurice reflects. He also shares that witnessing how Lekia got along with his now 7 year-old daughter Aniya was priceless. "Usually Aniya is shy and non-inviting to strangers but she was very warm and talkative to Lekia the first time they met," Maurice remembers. Although she had not met many of Daddy's "friends" at that point, I recognized that she bonded with Lekia in an unusual manner.
[cincopa AcCAdrqMozIO]
[Images courtesy of Antillana de Fotografia.]
Hurry Up and Wait When Maurice decided to ask for Lekia's hand in marriage, he crafted an intricate plan involving her family back in Detroit. "Lekia grew up in her hometown church which is very important to her. I thought it would be appropriate to highlight her before the people she loved most, and before God," shares Maurice about his proposal to Lekia. An excited Lekia accepted her beau's thoughtful proposal — "it was sorta an out of body experience" — and was ready to plan her big day but life threw the couple an unexpected turn. "Soon after we got engaged Maurice's company downsized and we had to put our wedding planning on hold. We also moved in with each other and since we were both used to living on our own it all caused a lot of friction," admits Lekia. "But I still knew that he was the man I wanted to spend the rest of my life with because the good always outweighed the bad," she shares.
Dominican Republic Destiny Lekia and Maurice eventually made the state of Maryland their home but decided to get hitched in the Dominican Republic. Lekia explain, "We wanted a smaller wedding." The couple's intimate ceremony included forty loved ones, many of whom had never been to Dominican Republic before. "Friends and family invested in our union to attend and we were truly treated like royalty," recalls Maurice. "Throughout our time there, vacationers asked to take pictures with us which was very flattering," he asked. The duo agrees that their nuptials were filled with both sentimental and hilarious moments. Plus there was plenty of dancing! Maurice, a self-professed "momma's boy" shares that dancing with his mother was his favorite part of the reception. Lekia's? "When my friends and I got to do the Wobble!" 
Lekia's Money Saving Tips for Future Brides
Destination Deals Lekia and Maurice wanted to ensure guests didn't go broke celebrating their union. Lekia explains, "We chose an all-inclusive resort which saved people money. For a lot of guests, our wedding was their vacation for the year."
Know Your Dealbreakers "We wed in a beach gazebo because I didn't want to get married in the sand. There were certain [desires] I didn't want to sway from," recalls Lekia. Even if you're a frugal bride, knowing what is most important to you and your beloved is key and might actually save you money and time in the long run.
Support System "I think planning brides should have one person to be a sounding board and keep them focused on what is most important. Find that one person you can turn to; I went to my godsister or my friend Jenisha," Lekia shares.
Take a look at past Tie the Knot Tuesday features here.
***Did you or someone you know recently tie the knot? Complete this brief form and the wedding just might be featured in an upcoming Black Bridal Bliss feature!***