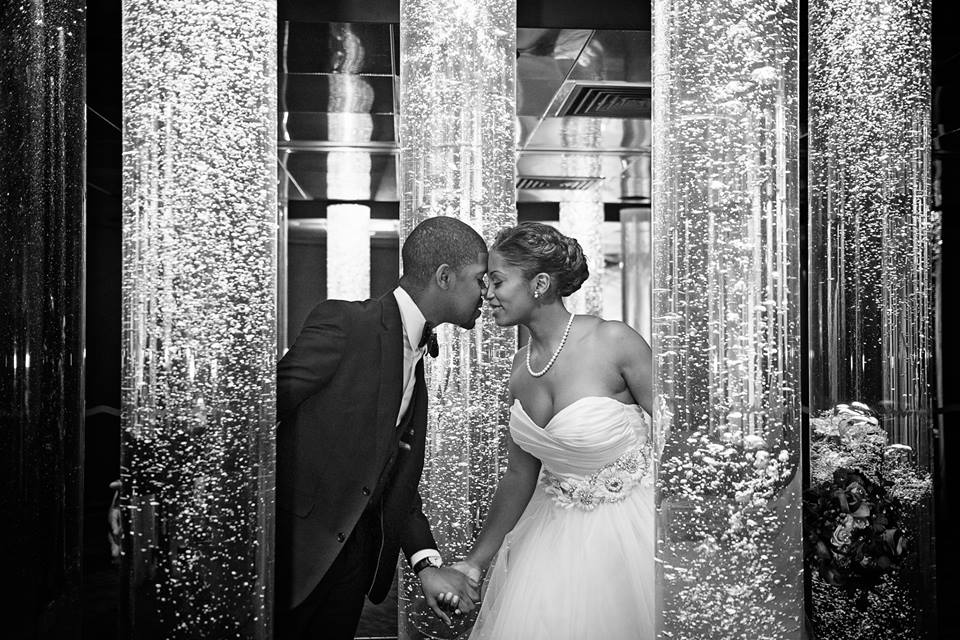 Couple: L'Oreal and Jeff
Wedding Date: November 1, 2014
Wedding + Reception Location: National Aquarium in Baltimore, MD
Wedding Theme: Surrounded by family, friends and dolphins, the couple was wed by the same officiant who married the bride's parents 30 years earlier. 
Not Impressed "Jeff and I met in 2008 through mutual friends," recalls L'Oreal. "I thought he was shy, quiet and boring … And if you'd told me then he was going to be my husband, I would have laughed in your face!" she candidly continues. "My first impression of L'Oreal was that she was super outgoing. I'm definitely more laid back, and having this girl around me who was really talkative was different," Jeff shares.
Opposites Attract "Ironically, I love that L'Oreal's outgoing!" Jeff reveals. "Even though I'm reserved, I do have a fun side. Her personality allowed me to bring that out. We love to laugh! We also bonded over a mutual love of sightseeing, food, and museums." L'Oreal agrees. "Jeff was dating someone when we first met. But after they broke up, we became good friends and would talk all the time via text, email and social media." She adds, "Our courtship was fun!"
[cincopa A8EAac8M4k_M]
[All images by Kathleen Hertel Photography.]
I've Got Your Back "I realized I loved Jeff when my grandfather became gravely ill," L'Oreal says. "He's the only person I wanted to confide in and the first person I told when my grandfather passed. I knew Jeff would always be there for me." Jeff equally felt a strong sense of support from L'Oreal. "From day one, we were long distance. It was tough from the get-go. I was living in Ohio and planning to relocate to Chicago, while she was living in Maryland. She never discouraged me from moving to Chicago. She remained supportive even when she knew it would put a strain on our relationship. To have someone in your corner like that is unbelievable. I knew at that point our relationship was special."

Back to Our Roots Once Jeff decided to ask for L'Oreal's hand in marriage, he went into proposal planning mode. "Our long distance relationship made the planning difficult. Luckily, her amazing sister was more than willing to help." Jeff's planning worked and L'Oreal was happily surprised by her beau's proposal. After accepting, the duo decided to head back to L'Oreal's hometown for their wedding. "Since Jeff and I's first date took place at an aquarium, we decided to say "I do" at the National Aquarium in Baltimore," explains L'Oreal. The joyous occasion included lots of fun (L'Oreal opted for a Cleveland Browns garter in honor of her new hubby although she's a diehard Baltimore Ravens fan) and funny moments (Jeff screwed up part of his vows because "The Reverend threw me off…"). The couple is happy their wedding planning days are over and look forward to building new memories as husband and wife. L'Oreal says, "I'm looking forward to settling into our new lives together, learning to cook together and eventually starting a family."

L'Oreal's Budget Bridal Tips for Future Brides

Become a Web Shopping Expert "We booked the photo booth through LivingSocial and ordered guestbook (created with photos from our engagement session) for half-price on Shutterfly. We also ordered seating chart and programs from Etsy. I'm all about bargains!"

Unexpected Places… This savvy bride snagged her wedding day earrings and necklace from Kohl's.

Wedding Vendors:
Wedding Gown, Veil + Headpiece: Lazaro – Kleinfeld Bridal, New York City
Bride's Jewelry: Kohl's
DJ: Gordon Thorn of Absolute Entertainment in Hanover, Maryland
Cupcakes: La Cakerie in Towson, Maryland
Florist: Robert Champ at Flowers by Lucy in Aberdeen, Maryland
Catering: Classic Catering in Owings Mills, Maryland
Photographer: Kathleen Hertel Photography
Videographer: Andre Sturdivant of Understand the Vision (watch a trailer here)
Wedding planner/day-of coordinator: Tami Smallwood-Brown of Blush Wedding & Event Planning Firm
Shoe Designer: Nina
Groom's + groomsmen suits: Tzarelli from BlackTie Formalwear in Lincoln Park, Chicago
Bridesmaid's attire: Donna Morgan dresses from Bella Bridesmaid in Baltimore
Something old: Grandmother's wedding band
Something new: Wedding gown
Something borrowed + something blue: Dad's firefighter patch sewn into interior of dress
Revisit L'Oreal and Jeff's fun engagement session here.

Take a look at past Tie the Knot Tuesday features here.
***Did you or someone you know recently tie the knot? Complete this brief form and the wedding just might be featured in an upcoming Black Bridal Bliss feature!***