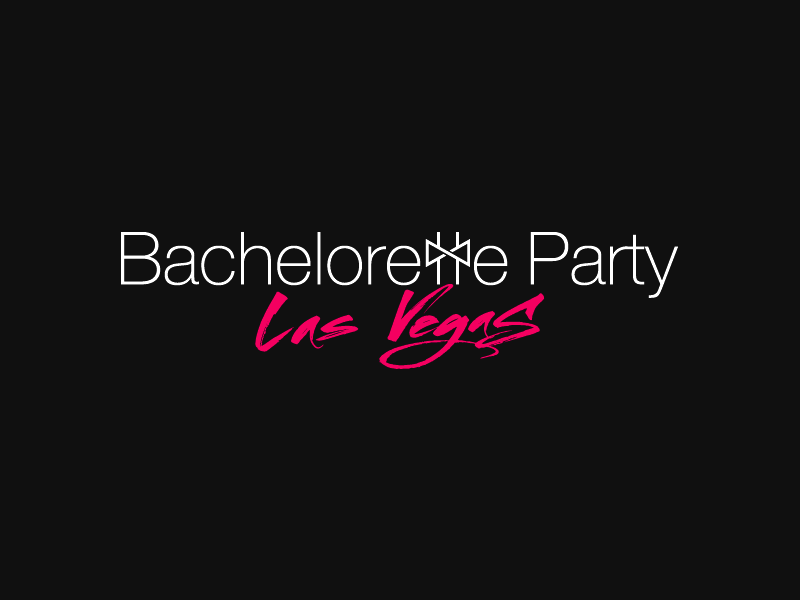 During my travels this summer I had the pleasure of visiting Las Vegas! Of course I got the scoop for Triple B on what brides-to-be should take advantage of while visiting "Sin City" since it is such a popular bachelorette destination. I know many of you are thinking you already know what Vegas has to offer: tons of booze, gambling and well, you know the rest. And it does. But this popular western gem has so much more to offer. See why:
WHERE TO STAY & PLAY: First you need a cool place to stay, right? One thing that Vegas has no shortage of is hotels. There are a plethora of cool ones on the strip like the new and chic Cosmopolitan and the hotel at Mandalay Bay. But I chose to stay at The Venetian and I was not disappointed. It is centrally located, the service is impeccable and the all-suite layout makes it perfect for you and your girls to gather and compare outfits before heading out. (You know how we do.) Plus I'm a sucker for the gondola rides — if you can't get to Venice, they're the next best thing. (More on those later!) Oh and both The Venetian and sister property The Palazzo give you direct access to TAO nightclub, known for having some of the hottest parties in Vegas. Everyone from Janet Jackson to Jay-Z has partied at TAO. For a more intimate but equally sexy night out just downstairs from your hotel suite, you and your girlfriends should check out Lavo. Seriously, I left Lavo wanting to do a photo shoot there. Even better is that both Lavo and Tao double as restaurants so you and your entourage can dine and dance the night (and morning) away in the same spot. A great asset when wearing 4-inch heels.
***There is a promotion taking place from September 21-23 especially for brides-to-be! The TAO Group is hosting the World's Largest Bachelorette Party. There are awesome prizes including pole dancing classes, a honeymoon giveaway and private performances from the Chippendales dancers so check it out and of course mention Black Bridal Bliss sent ya.
MORE WAYS TO PLAY: After you've partied like a rockstar, you and your friends might just want to chillax by the pool. The Venetian has no shortage of them but they also have TAO Beach. Yes, you can actually go to a beach in the middle of the desert. If you want to splurge, your pool of choice should definitely be Azure. Imagine you and your girls in your own cabana with complete concierge service while nibbling on cuisine from Wolfgang Puck. I had a sampling of everything on the menu and it was all de-li-cious. Ladies, this is an unforgettable way to celebrate your final days before wifedom! And to really unwind and get pampered, the Canyon Ranch Spa doesn't disappoint. The courteous staff is more than willing to arrange a spa day for your group that can be customized to your desires and budget. You can keep it simple with manis and pedis or go all out with massages, facials and the works. Once you're there, take advantage of one of the many relaxation rooms in the spa while sipping on herbal tea or fruit-infused water.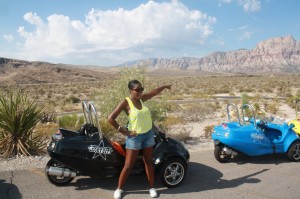 OFF THE BEATEN PATH: Ever wonder what Las Vegas looks like beyond the strip? It is actually filled with peaceful yet awe-inducing scenery at every turn. One way to take it all in and add a bit of spontaneity to your bachelorette trip is by planning an area tour in a three-wheeled car courtesy of Scoot City. I did one during my last Vegas stay of Red Rock Canyon (see pic above) and it was surprisingly one of the highlights of my vacay. Another cool — and adventurous — way to see the the city and the surrounding areas is ziplining. One company to consider for this is Flightlinez. Either of these excursions would be a fun way for you to round out your Vegas stay. 
Be sure to come back for next week's Travel Thursday for PART II of Triple B's Vegas coverage! Which of the above activities are you excited to check out?