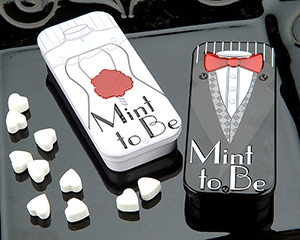 Happy Monday! I've missed you guys terribly; please forgive the gaps in posts. Recently a nearlywed inquired about out-the-box wedding favors on the Triple B Facebook page. Remember you can always go the photo flipbook route (I just attended a huge wedding with one and it was a certified hit!) or choose to give back/pay it forward with a charity-based "favor". Here are some other ideas beyond the predictable book of matches, cd or candles:
PLATINUM: If you've got a lil' change to spend and time to plan, check out Wine U Design. You and your sweetie can whip your very own wine for your guests to drink at your affair and take home with them. (Note that this is different from slapping a personalized label on any random bottle of vino.)
GOLD: Why not have your favor double as something you already planned to give your guests anyway like a program that is also a fan or mini-magazine. Check out these sites for tons of great and moderately priced ideas: Beau-Coup, Living Things Favors and My Wedding Favors (get info on the mints featured above here).
ATM: Um…Etsy is the TRUTH for DIY (do-it-yourself) brides. They have a plethora of creative options for favors that won't break the bank! Then of course there's also Michael's and the good 'ole 99 cent store for you truly crafty brides and grooms. Just keep in mind that less is (usually) more.
Last but certainly not least, if you're still pining for the traditional aka "predictable" wedding favors (I can't lie…I love a good R&B compilation cd!) then go ahead and do what makes you happy. Remember Lynda and Alonzo's perfect pear wedding favors? How adorable (and cost-efficient) were they? The Caribbean tradition of giving guests a dessert to take home with them is also awesome and preserves an important cultural tradition. Katrina and Lonnie did a wonderful job of incorporating this into their wedding reception. Not from the islands? Remix it with homemade sweet potato pie or red velvet cake. Whenever you stay true to who you and your spouse to be really are, it shines through.
Have a favor idea that rocks? Tell me about it in a comment below!