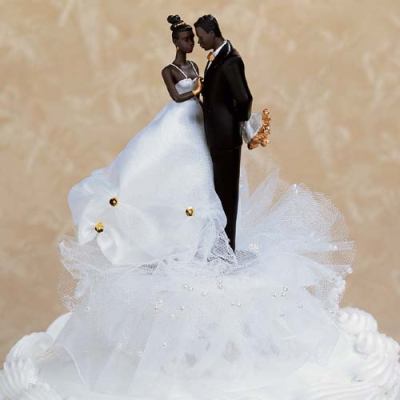 Howdy, folks!
Welcome to BLACK BRIDAL BLISS! Bridgette Bartlett here, creator of Black Bridal Bliss and certified bridal junkie. I launched this site because while working as an editor for a major Black women's magazine, I discovered how much sisters are neglected in the bridal market. And although I have never planned a wedding of my own, (God knows I've been in quite a few though!) it frustrated me. I also discovered that there are oodles of us who aren't planning a personal walk down the aisle but still get a huge kick out of looking at wedding dresses and videos of random folks doing the electric slide during wedding receptions. And let's face it, when opening any top bridal magazine you're likely to find more women who look like Gwyneth Paltrow than Mo'Nique, right? I searched and searched for ways I could help do something about this imbalance.
So, I decided to combine my passion for all things stylish along with my sincere desire to showcase more Black women in happy marriages (The nerve of me to think the latter is possible, huh?) and eventually came up with BLACK BRIDAL BLISS. As the week progresses, you will find informative fashion and beauty posts in STYLE, get ideas on everything from engagement parties to escort cards in PLANNERS, PEONIES & PLACECARDS, soak up the latest jet-setting dish in DESTINATION IDEAS, ooh and ah over the exclusive real weddings featured weekly in TIE THE KNOT TUESDAYS and lastly learn from honest hitched couples on what to expect after the honeymoon in MARRIAGE MATTERS.
I'm super-excited about Triple B and I hope you are, too. Stop by again soon as the site will expand regularly over the next few days, weeks and months. Become a fan of BLACK BRIDAL BLISS on Facebook and follow us on Twitter. Oh and be sure to drop me a line in the comments section to tell me what you simply love or just can't stand. And don't forget to forward the site address to a friend or six…or ten to help spread the word about the bliss.
The best is yet to come!
Bridgette