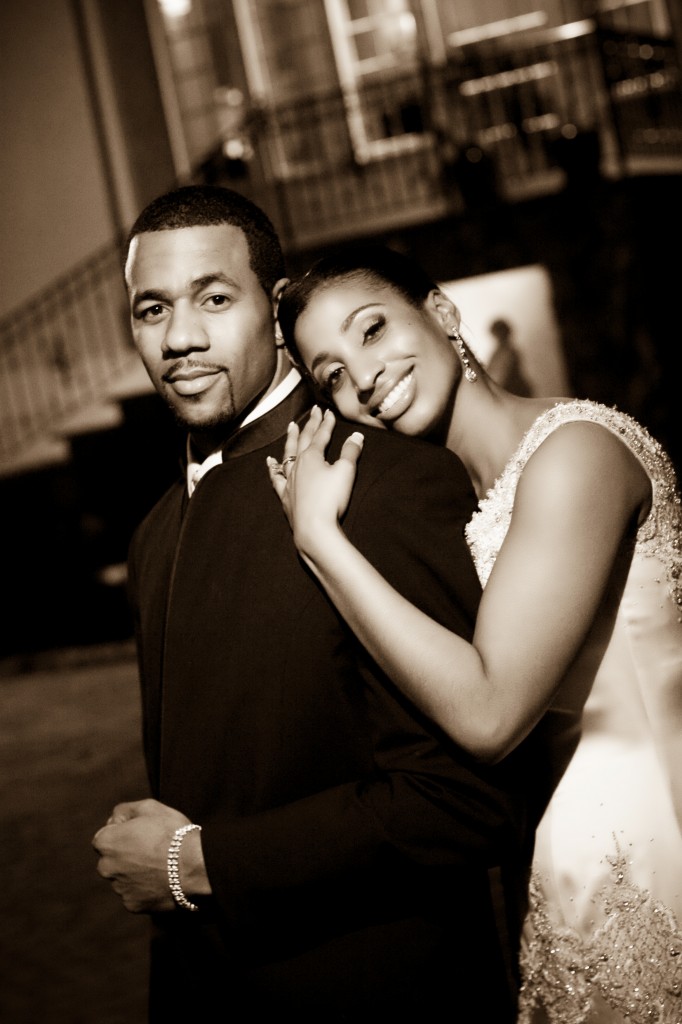 Bride: Cleo Stevenson, 29
Groom: Lyncoln Dujon, 33
Occupations: Stevenson, registered nurse; Dujon, accountant
Homebase: Maryland
Wedding Date: November 22, 2009
Wedding Location: Ceremony: Immaculate Conception Church, Bronx, New York; Reception: The Westmount Country Club, West Paterson, New Jersey
Second Time Around: If at first you don't succeed, try again. Thank goodness newlyweds Cleo and Lyncoln took heed to this sage advice. After meeting through friends, the duo immediately hit it off and started dating. "Cleo seemed down to earth and we had good conversation," explains Lyncoln. However the pair decided to take things slow after a few months of courting but agreed to stay in touch and remain friends. "During that time apart, I constantly found myself thinking about him and he wasn't even my boyfriend," admits Cleo with a laugh. A chance meeting at a mutual friend's party in Philly rekindled their sparks and the couple decided to give their love another chance. They haven't looked back since.
[cincopa 10585263]
All photography (excluding honeymoon pic) by Tiffany Atlas
You Can Count On Me: A couple of years into their relationship, Lyncoln traveled to the Dominican Republic to celebrate a friend's birthday. Unfortunately, said friend got into a serious accident during the trip and was hospitalized, forcing Lyncoln to extend his stay. Without hesitation, Cleo booked a flight to DR to see about her beau. "I just thought, he's down there by himself, he needs me," shares Cleo. Lyncoln reveals, "When Cleo came down to support me through [that difficult time], I had no doubts in my mind that she was the woman I wanted to spend the rest of my life with. I had strong feelings before then but that put it over the top because it wasn't even anything that I asked, she did it on her own."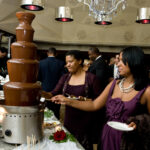 Family First: While dating Cleo, Lyncoln lost his job which caused him considerable angst. But, the couple now agrees that it was actually a blessing in disguise. During his time off, he got to bond with Cleo's 11-year-old son, Mahki which made their transition into a blended family easier when the two decided to tie the knot. "Me being a Black male and him being a Black male, there are certain things I don't want him to go through so I'm going to be a little more stern than Cleo is [with some matters]. But I can't always be the disciplinarian; I have to let him see my fun side, too. During that time I learned to balance it out a little better," Lyncoln confides.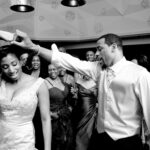 Pretty Woman: Once Lyncoln decided that he was ready to "put a ring on it", he started to plan a surprise over-the-top proposal. "Most of my friends would agree that I don't like to do anything regular," he playfully brags. He planned a romantic getaway to Puerto Rico, secured a private horseback riding session, an intimate dinner along the beach and even purchased a new outfit for Cleo complete with accessories, all to set the mood before he popped the big question. "He was definitely nervous," says Cleo with a giggle. Nervousness aside, Lyncoln got the job done and the couple returned home from their tropical vacay engaged and ready to plan their nuptials.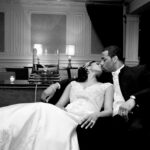 A Night to Remember: Organizing a wedding with a bridal party of twenty followed by a black tie reception isn't easy but this creative pair pulled it all off; sans a wedding planner. "Both Lyncoln and I are detail-oriented so that helped a lot," Cleo shares. The lovebirds worked tirelessly to ensure the big day met their dreams and that dedication certainly paid off. "Everyone had such a good time and complimented us on the food, the music and even our invitations," says Cleo. While the bells and whistles are exciting and memorable, perhaps Lyncoln summed up the day best, "My favorite part of the wedding was when we recited our vows because that was when [our union] became final."
Cleo's Money Saving Tips for Future Brides: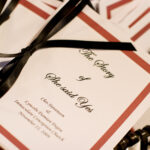 DIY Duo – This resourceful couple created their invitations and programs themselves. Their snazzy programs (see right) especially offered a personal touch. Each one contained a brief, fun description about the bride, groom and bridal party such as: "only a phone call away" and "new little sister and look alike". Consider Web sites such as Garner Studios (like the Dujons used) or Jean M to get your Martha Stewart on for your own big day.
Do Yourself a Favor – Remember, it is your day. Don't feel obligated to provide favors just for the sake of tradition. "Half of your guests won't remember to take them home and they will be left at the reception," warns Cleo. If you do still opt for favors, try to ensure they are practical.
Shoe Fetish – "Two months before the wedding, I had to get a new dress because the one I had was too short with my heels!" remembers Cleo. Future brides learn from this and make certain that you try your dress on several times with the shoes you plan to wear (or a similar pair) for your strut down the aisle. It might save you money and time in the long run.
Be sure to view the couple's must-see wedding videos here.