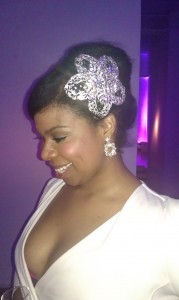 Triple B's resident bride-to-be Jene is unable to post this week. (Quickly dodges bottles and shoes…) I know, I know — it sucks. I'm probably more disappointed than you but thankfully I'm making up for The Road to Mrs. being M.I.A. today by giving you the scoop on a fab bridal resource I think you'll love!

I re-discovered Happily Ever Borrowed at the New York City launch of Fallon Carter Weddings. Fallon (How amazing does she look in the above pic?!) rocked bridal-ready accessories for her Big Apple debut and the savvy wedding planner rented them from Happily Ever Borrowed instead of purchasing the baubles and such. Anything that saves a bride and her attendants money immediately makes my Triple B antennas fly up. Seeing Fallon all dolled up in her HEB finds made the site seem real again, ya know? And in thinking about how many events the modern bride attends leading up to her wedding day — HEB could prove to be a lifesaver. In these days of folks literally documenting every second of their lives for public consumption — hello Facebook and Twitter — there is even more pressure not to repeat the same looks for one's engagement soiree, bridal shower, bachelorette party, rehearsal dinner, post wedding day brunch and honeymoon. (That might seem vain but be honest.)
Just about any type of accessory a bride could ask for can be found on HEB from tiaras to necklaces. Founder Brittany Haas and her team do a fantastic job curating their merchandise so there is something for the trendiest bride to the simple and classic bride as well. Prices start as low as twenty bucks for a basic birdcage veil (borrow for 5 or 10 days). HEB insists that each of their items are hand cleaned after ever rental and they ship throughout the U.S. International orders are available upon request.
Have you or someone you know ever tried Happily Ever Borrowed? Thoughts; what was your/their experience like?