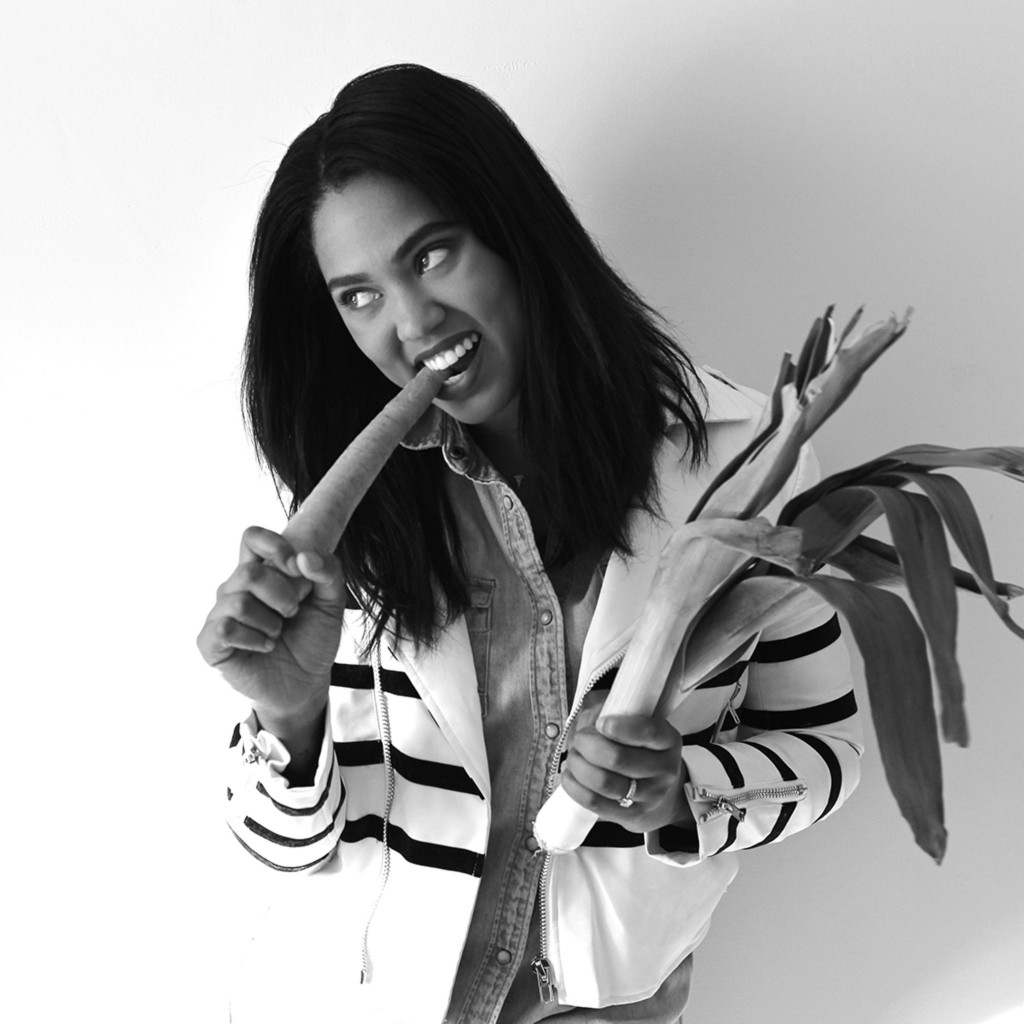 I had the pleasure of interviewing half of one of Triple B's fave couples, Ayesha Curry. During our chat, we discovered we both attended the wedding and Jada and Chris Paul (although she and husband Stephen were there as real guests of course and I was working) and she even dished on her oldest daughter Riley's favorite food — you'll have to pick up her cookbook in September to find out though. In the meantime, keep reading for a fun interview including her go-to romantic meal to cook for hubby Steph and her candid take on those shady memes! 
Tell us about your new show on The Food Network.
It was an amazing process. I can't wait for people to see it. It's allowing me to share my passion of cooking more than I can on the Internet. I'm also excited because I get to highlight some cool places in the Bay area.
So the show has a lifestyle element?
Yes. I'll be highlighting fun farms and different restaurants and learning things as I go along. I'm a home chef so I never went to school (for cooking). The show is very family inspired.
What can we expect from your upcoming cookbook, The Seasoned Life: Food, Family, Fun and the Joy of Eating Well?
More than 100 delicious, easy and approachable recipes. Nothing is too difficult. We're a generation that's always on the move, always busy, always tackling ten things at once. My goal is to simplify things so people want to get in the kitchen and prepare a meal for their family and have time to sit at the table and talk to each other.
Is that important for your own family?
It's the basis for all of this. I have four siblings so there were five of us growing up and dinnertime or whenever we could sit down [with our parents] and have a meal together was when we communicated the most. I feel like that's a dying thing these days, people gathering around the table at home. I'm trying to keep it alive through the show and my book. Even if you have 15 minutes, you can prepare a meal for your family.
What's your go-to romantic dinner to prepare for Stephen?
Lamb chops. Whenever we get a moment for an elaborate dinner, like on a date night, I do lamb chops and bacon-wrapped scallops, roasted asparagus, and some sort of starch like scalloped potatoes or loaded mashed potatoes. He loves it. If you ask him he'd probably say chicken parmesan. But I like to go the fancier route. (Laughs)
We have to ask about the memes circulating online. Is it ever hurtful to see them?
It's not hurtful. It doesn't affect my personal life but it just doesn't make sense to me. I wonder why people are so hateful sometimes. I just don't get it. I want people to know these memes aren't coming from me and I didn't endorse them. I have a feeling whoever is making them is mostly men trying to pin women against each other and that's something I don't stand for especially with us Black women. I just wish we could support each other a little bit more. I want everybody to succeed.
Read the full interview over on Essence.com!