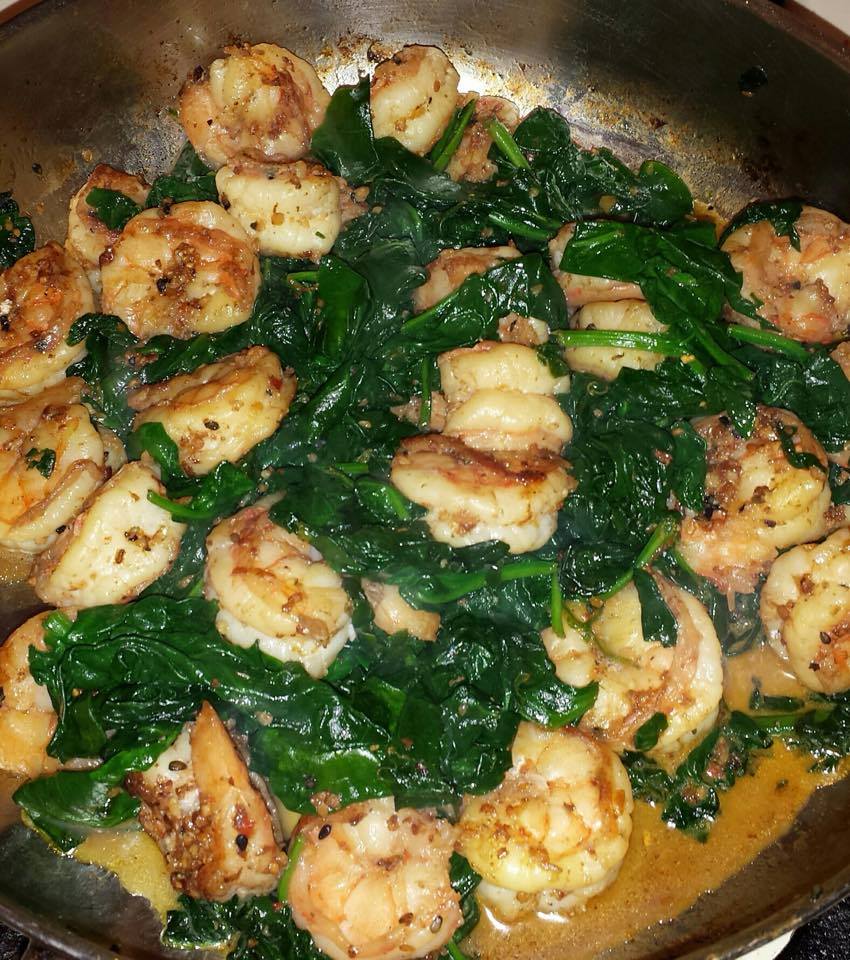 Admit it: Most of us have been successful in eating healthier but on those evenings when you get home from the office late or have to shuttle the kids around town to one of their upteen extra-curricular activities, the last thing you want to stress over is preparing a healthy meal for you and your family. This daunting task can of course applies to men and women. (My husband might be a better cook than me…Shhh, Don't tell him I admitted that.) Ordering take-out or buying fast food often seems like the easier option in our time-starved lives. Well folks, keep reading!
Last week on Facebook I noticed my timeline going nuts over a Shrimp & Sauteed Spinach recipe. Turns out it was initially posted by Triple B friend Linnyette Richardson-Hall! In less than a month the below recipe received nearly 70,000 "likes" and close to 300,000 shares. Take a look at what all the hype is about and come back and leave a comment if you try it for yourself.
Shrimp and Sauteed Spinach
(serves 2)
Ingredients:
1 pound of cleaned, deveined and shelled large shrimp
2 1/2 tablespoons of olive oil
1 1/2 tablespoons of Simply Asia Sweet Ginger Garlic Seasoning
1/4 cup dry white wine
3 cups of fresh spinach
Directions:
In a medium skillet, add 1 tablespoon of olive oil and heat until a slight shimmer occurs on the surface.
In a separate bowl combine the shrimp, 1 tablespoon of olive oil and the sweet ginger garlic seasoning, tossing lightly until shrimp are thoroughly coated.
Add the shrimp to the hot skillet, quickly sautééing until they are cooked and turn opaque. Pour in wine to quickly bubble and deglaze the skillet, scraping up the delicious brown "bits" on the bottom.
Remove shrimp to a small bowl and cover to keep warm.
In the same skillet, add in the final 1/2 tablespoon of olive oil and toss in the spinach, quickly stirring until the leaves are just wilted. Throw the shrimp back in for a final "toss", then plate up on a small serving dish.
*I think this would be delicious served with brown rice, quinoa or even in whole wheat pita. How would you eat yours?

Check out previous healthy eating-related Picks of the Week here.