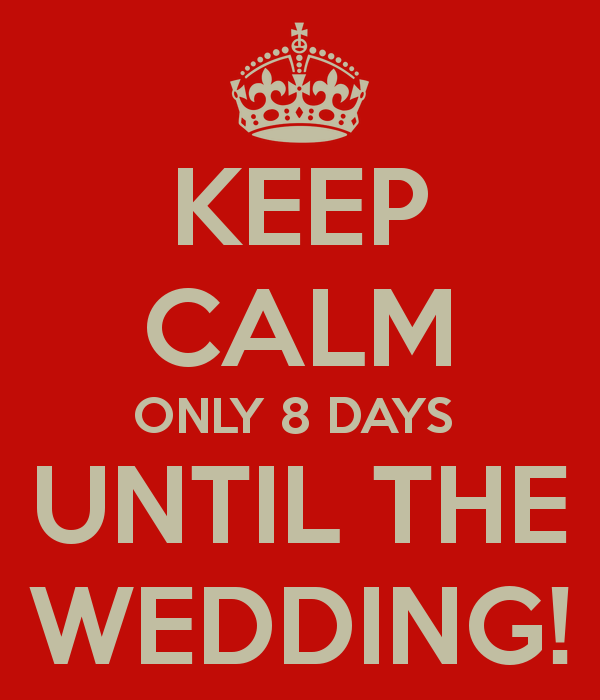 Happy Friday! Guess what? I'm scheduled to jump the broom a week from tomorrow. That's right! One. Week. From. Tomorrow. Although I've been blogging on Triple B for Road to Mrs. periodically, I have managed to remain sorta tight-lipped about the details of my wedding. (When it is all said and done there will actually be two weddings but more on that later.) My good friend Lisa pointed out my covertness the other night over calamari and catfish tenders. Our convo went something like this:
Lisa: Bridge, people will relate to you more on BBB if you shared the details of your day-to-day.
Me: Yeah, but you know I'm kinda private and so is Mr. TK. Plus, I have been blogging about it in Road to Mrs.
Lisa: (rolling her eyes) That's not enough. You launched a bridal blog and you're getting married. You've shared so many details about other brides yet you're keeping all the good stuff about yourself to yourself. That could turn people off.
Me: Oh.
Lisa: How about a countdown! That's fun and exciting and you can be honest about all the ish you still have to do. Be vulnerable like you were when you first announced you were engaged. People will relate to that.
Me: Genius!
And so here it is, folks. The first day of my 1 week wedding day countdown. I even plan to blog tomorrow. (Not Sunday though. The buck has to stop somewhere.) Below is my to-do list for today. Let's see how much of this I can actually get accomplished.
Buy wedding band. – Mr. TK is a bit annoyed that I haven't picked one out yet but I'm determined to make a final selection today! I can get it resized if needed post-wedding. I just want a simple band. No bells and whistles.
Schedule a bikini wax. – I apologize in advance if that was TMI.
Start teeth whitening. – Since I dropped the ball on scheduling a professional appointment earlier in the month, I'll be using one of the many Rembrandt kits I've accumulated from goodie bags over the last year.
Purchase metallic ballet flats from Nine West to shake a tail feather in during the reception. – Yes I will be one of those brides that takes off her heels to dance. FYI: I'm going to Nine West because I have a gift card to the store that will more than cover them.
Contact makeup artist to finalize details about the wedding day.
Ask my beauty editor friend to call in a perfume for me to wear. I think I'm sticking with my tried and true favorite, Kai.
Send follow-up emails to the more than generous family friend who volunteered to design our wedding day signage (Thanks again, Matt!), the photographer and videographer, wedding coordinator (more on her later; she's been awesome) and another writer friend who has expressed interest in covering my wedding.
Send any outstanding pics for reception slide show to my brother who is putting them all on a flash drive for us. – The venue actually wanted it this morning — Yikes!
Do laundry. – Okay at least sort the laundry so I can knock it out in the morning.
Remind Mr. TK of how much I appreciate him. All of him. Even the parts I don't always understand. I don't want to become the bride that loses sight of what the wedding is all about in the first place. Plus, he pulled a rabbit out of the hat for us this week — big time. I love me some him!
There's more but nothing on this list will get completed if I keep typing. Have any tips for me? Please share. I'm usually the one dishing out the tips but for the next week I welcome your advice. Gracias!