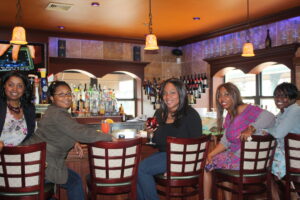 Calling all bridezillas! I've seen one too many brides abuse their bridesmaids and I've had it with the disrespect. Ladies, are you serious? Yes, when you're getting married things are supposed to be all about you, but you can't be the star of the show if there's no supporting cast. If you want your girls to stick around, you're going to have to give them some respect. I know you love them, because if you didn't you wouldn't have chosen them to be by your side at the altar. The question is, do you care enough about them to make sure the best day of your life isn't their worst? I think you do, so I'm going to suggest a few simple gestures that can go a long way when it comes to showing them your appreciation. I present to you, my guide to spoiling your bridesmaids.

Let Them Look Hot Too What good is it having a great photo of you and the girls if you're the only one who wants to frame it? You will be the most beautiful bride that ever walked the aisle, but remember that your girls want to look good too. Pick something that flatters them, and something they'll want to wear again. If you're not sure the dress is a winner, go for accessories they can rework into their wardrobe.
Give Them Some Say You may have every detail planned out, but that doesn't mean you can't be flexible. If you've picked the dress designer and color, why not let them pick the style? If the dresses are floor length, why not let them wear their favorite shoes? I picked a gorgeous wine colored A-line gown from Priscilla of Boston (see it on the runway here) for my four fabulous ladies, but I let them weigh on the shoe search and pick their own earrings, hairstyles, and bags.
Pick Up the Tab on Something Being a bridesmaid can cost. By the time they foot the bill for their dress, accessories, hair, makeup, and their part of the bachelorette and bridal shower fun, a bridesmaid could easily spend upwards of $1,000. So, when you set off to plan your wedding budget, would it be so wrong to leave a little padding to take some of the pressure off of them? Some of my bridesmaids are mothers, and others are juggling a lot, so I thought it only fair to do so. After we went dress shopping, I treated the girls to brunch, and when it came time to organize my shower, I asked for their help planning, not paying. Plus, my fiancé and I are covering the cost of their hotel expenses since we're getting married a ways from home.
Don't be a Stingy Gift Giver When it's all said and done, traditionally you gift your girls with a special token of thanks. Now is not the time to be cheap. It can be convenient to grab a great deal on monogrammed cups at Michaels. But the thing is, are you going to sleep well on your wedding night knowing you gave them gifts you found in the bargain bin, when they've just spent hundreds of dollars on you? I suggest something more thoughtful, like custom fragrances or a mini post-wedding spa-day.
Watch Your Mouth They're your friends, not your slaves! No matter how high your stress levels are, calling them names, or cursing them out isn't acting out of frustration it's acting foolishly. Speak to them with respect and love and they might just hang in there. If you have to be disrespectful to your friends, the truth is, you don't deserve them.
Are you showing your bridesmaids a little love? I'd love to hear how. Don't agree with my suggestions? I wanna hear about that too!
Click here to read more commentary from Triple B's favorite Bride-to-be, Charli P.