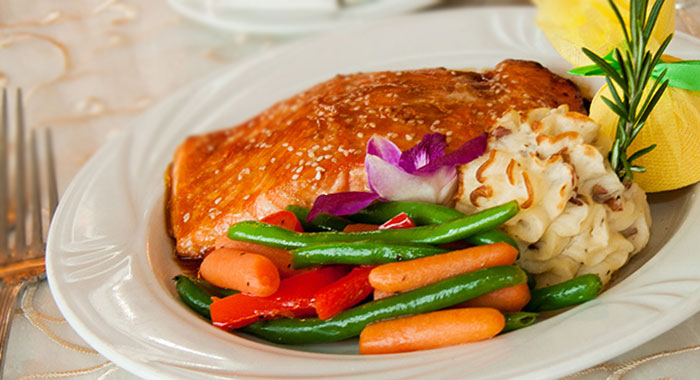 I apologize for the gaps in posts recently. Although I'm no longer wedding planning, merging my 30+ years of life with Mr. TK's is time-consuming. Wedding planning is light stuff compared to some of the decisions we're currently making. But, you are likely coming to this site because you're still in the thick of planning your own nuptials. Don't worry, I'm not going to abandon you. In fact, I am eager to share even more of my knowledge now that I've said "I Do." Below are ten ways you can trim your wedding catering expenses. Remember, food and beverage costs will eat up most of your budget so this is valuable information. Bookmark this page, forward this link to others, print this post out and stick it on your fridge — you're welcome!
1 – Consider a morning or afternoon wedding so you can serve breakfast or brunch instead of a pricier dinner. The foods typically associated with dinner are more expensive than standard breakfast/brunch fare.
2 – Check with your caterer on what the most cost-effective options are for you. Like many couples, Mr. TK and I assumed a buffet would be less expensive than a seated dinner but for our caterer of choice that was not the case. Buffets often require more food since your guests are serving themselves and portions aren't regulated. And if you have waitstaff serving the food, you're not likely to save anything. Be sure to you get clarification from your venue and/or caterer.
3 – Cocktail hours are just that — an hour. By now, we've probably all been to a wedding with a colossal cocktail hour. You know the ones with the seafood station, the carving station, the pasta station, etc. If this fits your taste and budget, go for it! But if it does not, don't fret. A cocktail hour was not designed to take the place of or overshadow an actual meal. If you only get to serve 2-3 appetizers during your cocktail hour (like Mr. TK and I did), your guests will live. Trust me.
4 – Creativity is the mother of invention. Mr. TK and I were adamant about not blowing our budget on a steroid-induced cocktail hour; however we wanted to ensure that the food we did serve during that time was creative. Since our wedding was in the south (Charlotte, NC), we served mini chicken and waffles and petite skillets filled with shrimp and grits. Some of our guests are still raving about them.
5 – If you're really frugal, skip food during the cocktail hour completely. Just serve…wait for it…cocktails. Your guests will still leave the reception with a full tummy if you intend to serve dinner later and since the hour flies by with guests mingling, taking pictures, etc. they might not notice the missing grub.
6 – Similar to flowers, avoid getting stuck on a particular entrée until you find out what is in season and readily available in your destination. The difference in savings between kale in October versus July might be significant.
7
– Remember,
anything associated with bridal cost more because vendors think they can pull on your emotions
! I estimate that I saved
30-40%
on Mr. TK's
groom's cake
by saying it was for a birthday rather than a wedding.
8
–
Skip the champagne toast
. The extra costs for bubbly that most people will waste can go toward something you and your honey really want. Your guests can toast with whatever is in their glass at the time. They're likely to be too emotional from the
heartfelt speeches
to care anyway.
9 – While I'm not a fan of cash bars, open bars with top shelf liquor are a major way to run through your wedding budget unnecessarily. Perhaps I feel this way because I'm not a big drinker. Regardless, I strongly suggest you consider serving house beer and wine and/or a couple of specialty cocktails to save on your liquor line of the wedding budget. If you happen to get hitched in one of those rare venues that allow you to bring in your own sprits, remember to buy wholesale.
10 – Last but certainly not least, remember that everyone who RSVPs yes for your wedding will not show up. You might be thinking, none of my guests are that rude. They're excited about attending our wedding and can't stop talking about it. And I'm countering that this has happened to all of the 100+ brides I've interviewed. And it happened to me. Mr. TK and I were expecting about 118 guests but I think our final tally was 105. Sometimes the excuse is legitimate (a family member turned sick) and other times it isn't but it will happen. After you've given your final count to your caterer/venue, you can certainly go up but likely not down. A reputable caterer will always have extra food and gladly charge you for it post-wedding but they dang sure aren't giving you a refund for Uncle Rufus and Aunt Bertha's uneaten dinner.

Tell me, how are you saving money/did you save money on your wedding day catering?