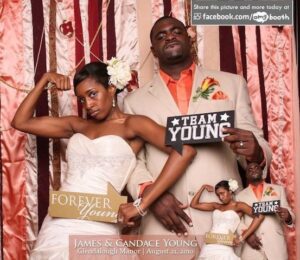 Recently I noticed a friend tagged in someone's wedding pics on Facebook and was quickly intrigued by the hilarious photo booth images as I clicked through the entire album. Initially, I was just "investigating" for a possible Tie the Knot Tuesday wedding to profile…hey it is research, right? But it didn't take long for me to realize these weren't just any 'ole photo booth flicks.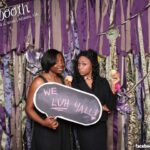 After doing a little digging, I learned that OMG  Booth is an Atlanta-based company that seemingly just launched earlier this year. The founders are a husband-wife duo (Shekita & Mose) who started the biz after getting frustrated when not finding a photo booth service to satisfy their creative desires when planning their own nuptials.  I am truly loving this concept and the genuine smiles in all the pictures! My father used to always say that a picture is worth a thousand words so have a look at more of this savvy couple's work here and here. The pair hasn't just stopped at weddings. They also provide their services for birthday parties, corporate functions and other special events.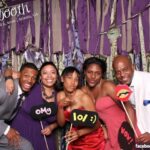 I know what you're probably thinking: How much does this service cost? Will they come to Chicago for my sorority sister's wedding? Do I get to choose my own theme? Get all these questions answered and more by contacting Mose and Shekita yourself here. (Just be sure to mention that Black Bridal Bliss sent ya.)
(All images courtesy of OMG Booth.)
And if you're feeling this idea but you and your babe would rather something a little more low-key, have your guests scrawl messages in chalk on word bubbles and then pose for pics that your hired photographer can take. Check out Hello Lucky for affordable and stylish options.