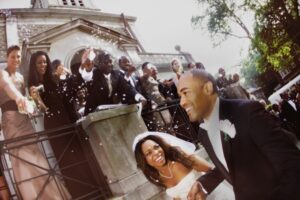 Bride: Nicole Manns, 28
Groom: Marcus Mayo, 27
Occupations: Manns, doctoral candidate; Mayo, financier
Homebase: New York City
Wedding Date: June 19, 2010
Wedding Location: Ceremony: First Unitarian Church, Germantown, Pennsylvania; Reception: The Downtown Club, Philadelphia, Pennsylvania
Strangers in the Night: Nicole Manns didn't expect to meet her future husband on the iron horse when leaving a party at Columbia University one summer night during college — but that is exactly what happened. She and her gal pals were on the A Train when Marcus began chatting her up and asked for her number.  "I missed the last few digits so I begged her friends to give them to me," says Marcus with a chuckle while adding that Nicole thought he was slightly obnoxious. The consummate gentleman, Marcus phoned Nicole that same night to ensure she made it home safely. Both students in Atlanta at the time, the co-eds returned to school in the fall and began dating shortly after.
College Romance: Although they got off to a bumpy start, things progressed rather quickly for Nicole and Marcus.  Their second date included a camping trip and by their fourth date they had traveled to Paris together. "We were actually supposed to go with a group of friends but everyone else flaked out," remembers Nicole. Perhaps their trip across the pond early on prepared them for years of long distance courting. "We dated for about seven years before we got engaged but were only in the same state for a year and a half," she adds.  The couple agrees the miles apart made their bond stronger. "I was willing to put in the work," admits Marcus.
[cincopa 10724441]
All wedding images and video courtesy of Nieubreed.
The Gang is All Here: After organizing a strategic plan with her best girlfriends and close family members, Marcus popped the question to Nicole on May 3, 2008. Marcus notes, "Nicole loves surprises and she's very close to her family. I wanted to incorporate those two things into the proposal." His baby excitedly accepted and the couple began planning their nuptials. They decided on the date of June 19th, 2010 and not at all by accident. Nicole's parents wed on the very same date over 30 years ago and Marcus's parents were married on June 20. Says Nicole, "I hope to capture and hold onto the love and acceptance that our families instilled in us as long as I live".
Following Tradition: The couple returned to Nicole's hometown of Philly to tie the knot and a loving bridal party of fourteen joined them – including one of Nicole's bridesmaids who traveled all the way from Spain.  The stunning bride was walked down the aisle by her father and she wore jewelry that her mother and grandmother also wore on their wedding day. "Everything in our wedding was kind of bringing things full circle," she points out. But the best part for Nicole? "My favorite part of the ceremony was when the church doors opened and I saw Marcus standing at the end of the aisle waiting for me." Maybe the subway is underrated, huh?
View the couple's lovely wedding trailer here! (Don't forget to peep their engagement video too before coming back to leave a comment.)
Nicole's Budget Bridal Tips for Future Brides:
Mom Knows Best: "My mother and her friends helped assemble programs, favors and completed other crafty projects for me. They were happy to do it," recalls Nicole. Follow her lead — don't underestimate the free labor that might be right under your nose.
Friends with Benefits: Is your bestie a calligrapher? Can your hubby-to-be's frat brother or best man double as a graphic designer? Tap into the resources of your amigos for wedding tasks. "Many of our vendors were friends; even the MC at the reception. We have many friends with special talents and we used them," says Nicole.
Do Your Location Homework: Nicole strongly advises couples to do research on their wedding location before finalizing how much they plan to spend. Remember a $25,000 wedding in Manhattan will get you a whole lot less than one in Toledo, Ohio. Nicole says, "Price the market in your area and then make your budget."
Check out Nicole and Marcus's impressive wedding Web site here!
Take a look at past Tie the Knot Tuesday features here.
***Did you or someone you know recently tie the knot? Complete this brief form and the wedding just might be featured in an upcoming Black Bridal Bliss feature!***