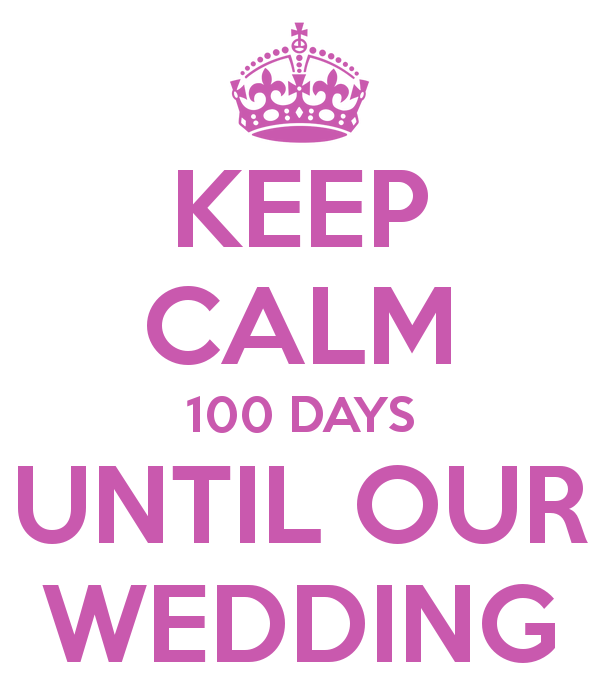 If it wasn't really real before, it's real now. 1000% real. 100 days and counting until we exchange our "I dos". Excited? Absolutely. Ready? Emotionally — no doubt. Ready as far as wedding planning is concerned? Let's talk about it.
100 days to go and according to my wedding planner Christina, we are in a good place. At this point we are putting the finishing touches on everything and just firming up loose ends. Invitations are in the mail, vendors have been booked, dress fittings are scheduled and I've even been sticking to my "sweat for the wed" workouts. According to our wedding "to-do" checklist, we are on point. Tasks are being completed and we are in the home stretch, but I'm just still a little nervous about everything coming together the day of.
I am fortunate to have an excellent wedding planner, a great event manager at our venue, family and friends that are ready to jump in at a moment's notice — so why the nerves? The unknown. Nervous about the unknown, about what could happen. I know, the unknown is out of my control and I should only focus on the things that I can control, but I can't help it. The desire to want our wedding day to be as close to perfect as possible is definitely contributing to my feelings of uneasiness.
On one hand, we are 100 days out and the wedding is almost here! After 16 months of being engaged, all the planning and prepping will finally culminate with this beautiful celebration of our love shared with our family and friends. However, on the otha hand, we are 100 days pre-wedding and that little perfectionist birdie sitting on my shoulder keeps reminding about all the little "extras" that can be incorporated into the wedding, if only we had more time. Eeek!
While I battle with my inner OCD, my fiancé, imparts his calm, carefree words of wisdom – "We are getting married in 100 days. We are doing this. We will be fine and nothing else matters." My ying to my yang, my Jay to my Bey, my Clyde to my Bonnie, my soon-to-be husband was absolutely correct. Everything was going to be just fine.
In 100 days even if it rains, or our ceremony starts late, or a guest gets a little too lit of the open bar, I get to marry my best friend surrounded by those we love and who love us. 100 days and counting…
100 days pre-wedding day — "bring it on" or "a little more time please"?
Check out last week's powerful Road to Mrs. post on pre-marital counseling here!