In a previous post, I discussed the importance of wedding planning visits when planning a destination wedding. Last week, I spent 3 days in sunny Los Angeles with my Mom, daughter and wedding planner to do nothing but wedding plan…well, kinda, except for when we put on our tourist hats and since it was Ava's Spring Break, checked off all of her "to-dos" from her list, which was a list of random, but dope, sights to see. But, for the most part, we were knee deep in wedding planning.
Day 1: Again, I'll refer you back to a previous post, where I was sang the praises of my Soror/Friend/Wedding Planner. For me, a wedding planner is necessary. A few months into planning, I realized that I was over my head and there were so many things that I did not consider when putting my planning in motion. So, for our first day of Cali wedding planning, my phenomenal wedding planner Christina arranged a full day of appointments and we were ready to hit the LA freeway.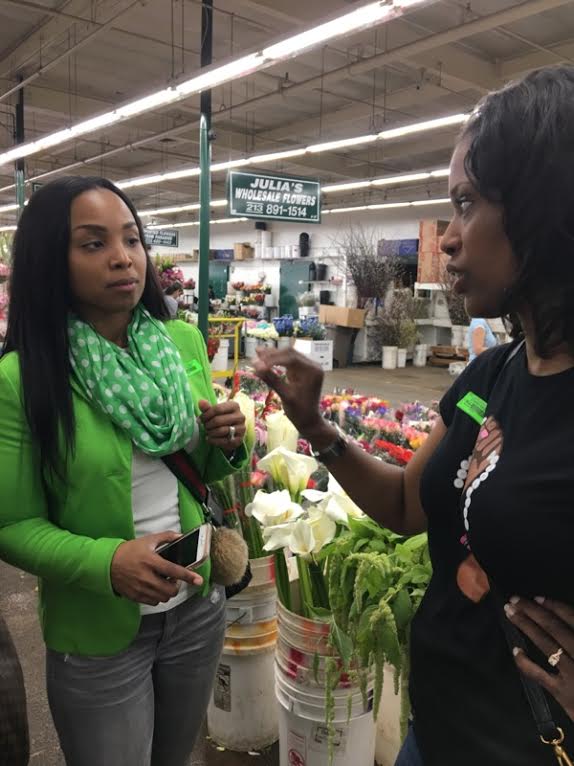 First stop – meeting with an event design vendor. Through my Pinterest journeys, I found pictures of a beautiful wedding that was held at Tiato – the venue where our wedding ceremony and reception will be held. I pinned pictures of my favorite décor from this wedding and located the contact information for wedding designer. My wedding planner contacted the vendor and obtained a quote for us to review. After I got over my sticker shock (clearly the couple whose Pinterest wedding that I admired was not balling on a budget), my wedding planner and I discussed how to proceed. We decided to meet with the vendor in person and to see if we could scale back the designs I found online or perhaps, find alternative options.
Our appointment went well. Although I could have made decisions regarding table linens, dinner plate chargers and lighting via the Internet, it was definitely worth the visit to see, in person, these items, their true colors and dimensions, feel the textures and compare with similar items. Also, I like to negotiate face-to-face.  You can't pick up body language via email or the telephone.
After the meeting, Christina and I reviewed the revised estimate based upon our recent selections and found areas where we could scale back or remove entirely. Since the quote we received also included a floral estimate, we decided that we would price shop between this vendor, the in-house vendor at my wedding venue, and the Los Angeles Flower District, which we reserved for Day 2.
Day 2:  So, Day 2 was really Day 4 for me. I arrived into LA late Tuesday evening from Indianapolis, where I had been since I left St. Louis on Sunday of that week. Daylight Saving Time was on Sunday. St. Louis is in the Central Standard time zone. Indianapolis is in the Eastern Standard time zone. Los Angeles is in the Pacific Standard time zone. By Day 4, Keisa was in a my-body-is-all-the-way-jacked-up time zone, so I knew a day in downtown LA, in the Flower District would be anything but uneventful!
Prior to arriving to LA, I did as much research as I could about the LA Flower District, but even with all of my lawyer researching skills (doesn't sound lawyerly, but you get the gist), I wasn't prepared for the vastness and fabulousness of the Flower District. So very LA.
To be continued…
Do you think there is value in meeting your wedding vendors in person when planning a destination wedding?
Check out last week's Road to Mrs. post here.