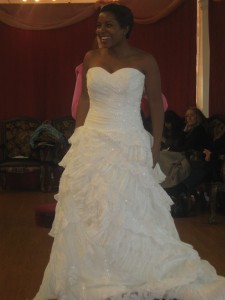 Remember Nadine who shared her heartfelt journey with us about going from single to happily boo'd up to engaged?! Well, she's back and each and every Thursday until her big day she will join us here at Triple B with musings on preparing for her wedding — picking up where Charli left off. This week Nadine's enlightening us about the daunting task of choosing a wedding gown. Check it out and be sure to leave her a comment with your feedback!
Okay, let's be honest ladies. The first thing you think about after you get engaged isn't setting the date or booking the church. It's the dress of course! To me, your wedding dress is the most important one I'll ever wear so choosing the right one is crucial.
Some brides-to-be have their wedding dress selected well before the proposal.  Others, like me, don't know where to start. It's hard not to feel overwhelmed. Raise your hand if you've asked yourself: What style should I choose? What can I expect at the bridal salon? How will I know it's the one? Relax. Finding your wedding dress can be a stress-free experience. In fact, you may just find your dream dress at your first appointment. I did.  Here's how:
With less than a year to go before my wedding day, I was ready to start trying on dresses. So with the support of my mom and bridesmaids, I made my first appointment. My consultant Natalie was friendly, attentive and knowledgeable. After we talked about my ideas and I showed her a few pictures, she began pulling dresses. All of them were beautiful! About 10 dresses in, Natalie showed me the most stunning gown. I fell in love and had found the ONE!  I just knew it was mine.  How? I cried as soon as I took it off. To be sure, I tried on another 10 dresses. Although there were two others I liked, my mind was made up.  And once looked in the mirror and I saw the ONE with the veil and tiara, it was a wrap. The moment was so emotional I cried again. I guess when you find the right dress, you just gotta say, "YES!"
Budget Tip: Most bridal salons require a 50% deposit, with the balance due after your first or last fitting.
How are you finding your search for your wedding dress?  Do you have any tips of your own to share?  I want to hear your stories!