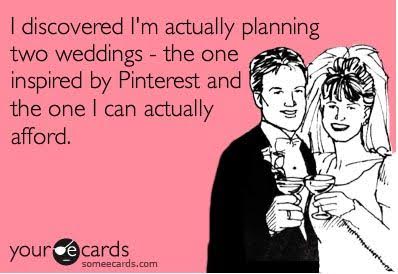 Oh, Pinterest. It's easy, addictive and a seemingly unlimited resource for um, everything! The fact that it allows you to create "secret" boards (which is perfect for planning your wedding even before you have a steady boo) is more than enough reason to looooove it!
The downside, when it comes to planning a wedding, is that you will have "pinned" yourself 100 "DIY" projects and a $100k wedding! No, seriously. I had to have a Pinterest reality check early on in my wedding planning process. I love being able to find images of possible wedding color palettes, floral arrangements, wedding gowns, even DIY wedding favors; however, before you know it, you have created 10 boards, and what once seemed like a useful tool, has now become a smorgasbord of ideas that you don't know what to do with.
Soon after we were engaged…Okay, prior to me even meeting my fiancé, I had several wedding related boards. An engagement ring board; a wedding dress board; bridesmaid dresses board; wedding colors, etc. Once we started officially planning, I started adding to those boards and even creating more — a lot more. Then, a few of my girlfriends created boards and added me to theirs and just like that, Pinterest notifications were blowing my phone up!
Problem #1: I had a ton of ideas, but had no organization. I know, #firstworldproblems, but I really felt overwhelmed by all the creative possibilities and inspiration.
Problem #2: A good portion of my Pinterest boards contained DIY projects, which at first glance seem totally doable, until you factor in the time and sometimes costly resources that are needed to Martha Stewart a project.
Since the stress of my Pinterest woes kept me up most nights (I kid, I kid), I needed to re-organize and reacquaint myself with reality. Going through board, by board, image by image, I realized I had several of the same images saved to different boards, boards that were outdated since I had finalized a few things (e.g., wedding colors, dress) and boards with DIY projects that were most likely going to stress me out during hour 2 of me "doing it myself".
Once I cleansed and purged my Pinterest boards, I really was relieved. I now have boards that accurately reflect my wedding — not the wedding in my head, pre-relationship. This newfound Pinterest reality came in handy when sharing ideas with my wedding planner. My online wedding planning image book was now a helpful resource. For those DIY projects that seemed like time drainers, I researched Etsy to find comparable items for lower costs. For those pins of $100k weddings with details galore, we used those images to share with vendors to find affordable alternatives. For me, organizing the resource used for organization was more than necessary.
Have you used Pinterest or other media platforms to assist with wedding planning?

Check out last week's Road to Mrs. post here.