Please enjoy today's Tie the Knot Tuesday brought to you by freelance writer and graduate student Laura Eustache. She's a real go-getter and did an outstanding job telling this couple's story so let's show her some warm Triple B love with loads of comments, okay?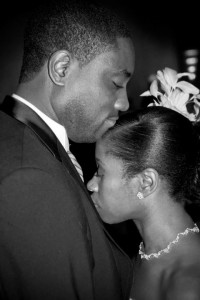 Bride: Barbara Prosper, 32
Groom: Stanley Bellot, 34
Occupations: Prosper;  Financial Advisor, Bellot; Student/Computer Technician
Wedding Date: July 2, 2011
Location: Montreal, Canada
Theme: Ode to our Homeland Haiti, Caribbean Chic

Humble Beginnings Barbara was a big believer in dancing and having a good time. She loved Konpa, Zouk and Salsa. Stanley loved hip-hop and rap. How could those two worlds of taste ever be merged?  Barbara did think Stanley to be cute and all after seeing him in passing; she on her way to work, him on his way to school, but her mother being a single parent and  having reservations about her dating and Stanley's reputation of being a player didn't really help create an opportunity for anything substantial. "My friend refused to hook us up," recalls Barbara, "She said he wasn't my type and that I should leave it alone."
Call it Fate? "God does things in weird ways sometimes," says Barbara. One fateful night would change everything. Barbara's boyfriend at the time took her to a wedding, where he disrespected her by flirting with another girl. Ironically, Stanley happened to be at the same wedding; she reluctantly exchanged phone numbers with him, but ended up talking to him for four hours straight that same night. "I thought I was crazy," she says. "I had to call my cousin Daphnee to ask her if I was doing the wrong thing. I couldn't believe I was falling so quickly." At a barbeque the following day, Stanley behaved as though she was his girlfriend and the two decided to make it official three days later.
[cincopa AUGAlwKLBoHe]
[All images by Loic Surprenant.]
Speed Bumps on the Highway of Love The biggest challenge the couple faced was getting Barbara's mother on-board, which happened during the pregnancy and birth of their son Kenley Omary, now 6. Barbara didn't want to disrespect or disappoint her mother, but she knew Stanley loved her and she believed in fighting for that love. "I knew she wanted the best for her daughter," says Barbara, "But I've also learned that when you believe in what you want, you can't let others take it away from you. Barbara says she doesn't regret fighting because now the mother-in-laws have weekly check-ins with each other and holidays are spent altogether. Stanley believes his family to be the most priceless thing for him. Most of his friends were already married and he knew he wanted to spend the rest of his days with Barbara, so marrying her seemed like the most sensible thing to do.
 Meet Me at the Altar in Your White Dress…After ten years of dating, Stanley talked to Barbara's mother, telling her he was ready to marry her daughter, something he honestly hadn't seen himself considering in the past. He now knows this makes his connection to his wife that much stronger. The proposal was done in a simplistic but heart-warming fashion. On Barbara's birthday morning, August 15th, 2010, she found a blue box on her pillow while getting dressed for work. Unbeknownst to her, at 5AM, she opened the box and discovered an engagement ring. "I was ecstatic," Barbara recalls fondly. Stanley had  the help of their son, affectionately called Ken who assisted in choosing the ring. The couple wanted Ken to have a good example of love and family and thus thought getting married was important. In choosing a wedding theme, they decided to pay homage to Haiti, having both been born and raised there. Drummers were at the entrance of the reception hall; reminding them what it felt like when entering the Toussaint L'Ouverture Airport in Port-Au-Prince. Their delicious cuisine was catered by a Madame Sostin, who is home-based and runs her business by referral. The bride's favorite part of the ceremony was the exchanging of the vows. "We were given many different options on what to say, but what we chose really spoke to our relationship," she says. Stanley's favorite part was the reception? "The Carnival dancers were a hit!"
Barbara's Money Saving Tips for Future Brides
Know Your Limits "I knew how much we were willing to spend from the very beginning," says Barbara. She says brides who can't afford or don't want wedding planners should create a budget early on. She says this also helps a bride to keep her "feet on the ground."
Shop Around "Don't be afraid to shop around and compare prices," says Barbara. "I made sure to check out different places and things for all [the] details of my wedding."
Save for a Rainy Day "Having a back-up plan and money on reserve is so important," reveals Barbara. Two months from having to send out invitations, her booked reception hall was going bankrupt without her knowledge, resulting in the loss of a pricey deposit. "We had to book an entirely new place at the last minute and thank God we had the [reserves] for that."
Take a look at past Tie the Knot Tuesday features here.
***Did you or someone you know recently tie the knot? Complete this brief form and the wedding just might be featured in an upcoming Black Bridal Bliss feature!***