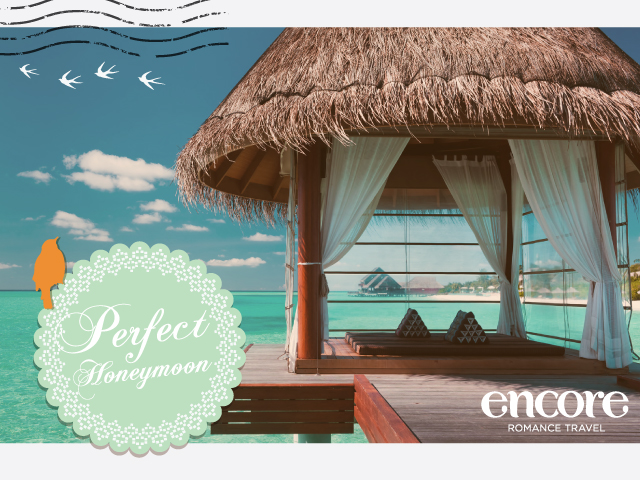 Triple B just discovered a travel resource that could possibly be a lifesaver for nearlyweds or newlyweds in the honeymoon planning stages. I just learned of Encore Romance Travel on Instagram earlier this week via Chic Brown Bride. (Thanks again, Danielle!) Encore caught my attention and I think they should be on your radar, too. Here's why: Encore specializes in off the beaten path honeymoon packages, custom packages and all-inclusive honeymoons. There is even an option called mystery honeymoons for the truly adventurous couple. Encore owner Brenda says, "I am passionate about traveling, discovering the world and I love helping other busy couples create the honeymoon of their dreams." Good stuff, right?
But let's face it, the idea of using a travel agent in these times can seem silly. With the proper patience, one can score amazing travel deals online without the help of a travel professional. I certainly have. But for those who are uber-busy and/or major procrastinators, Encore is a major find. My girlfriend recently revealed that she and her husband intended to take their honeymoon within a year of saying "I Do." She's now on the cusp of her five (!) year wedding anniversary and hasn't taken nary a vacation since becoming a Mrs. Her revelation scared the ish outta me. Especially since for a myriad of reasons, Mr. TK and I opted to take a minimoon right after our Charlotte wedding and will God-willing go on our official honeymoon next spring/summer. We're both international travel lovers (Mr. TK went to four countries for his bachelor trip for goodness sake!) and are leaning toward taking a Mediterranean excursion with the bulk of our stay being in southern Italy along the Almafi Coast. I do not want to look up five years from now and say because of work, moving, children, money, insert another lame excuse here, we never took that dream honeymoon. A resource like Encore just might help keep us accountable.
I'm still not sure Mr. TK and I need Encore to pull off our honeymoon but I do believe that founder Brenda is onto something. I admire the fact that she and her hubby launched their biz after being frustrated planning their own honeymoon. Creativity is the mother of invention. In addition to honeymoons, Brenda also has experience planning destination weddings and elopements. Even if you think Encore is a complete waste of money, check out this neat honeymoon planning timeline she whipped up for her blog. Clearly Mr. TK and I didn't follow this timeline — hee, hee — but this is a cool guide for more traditional couples. And if you decide to give Encore a try, be sure to mention Black Bridal Bliss sent ya!
Where are you going/did you go for your honeymoon?