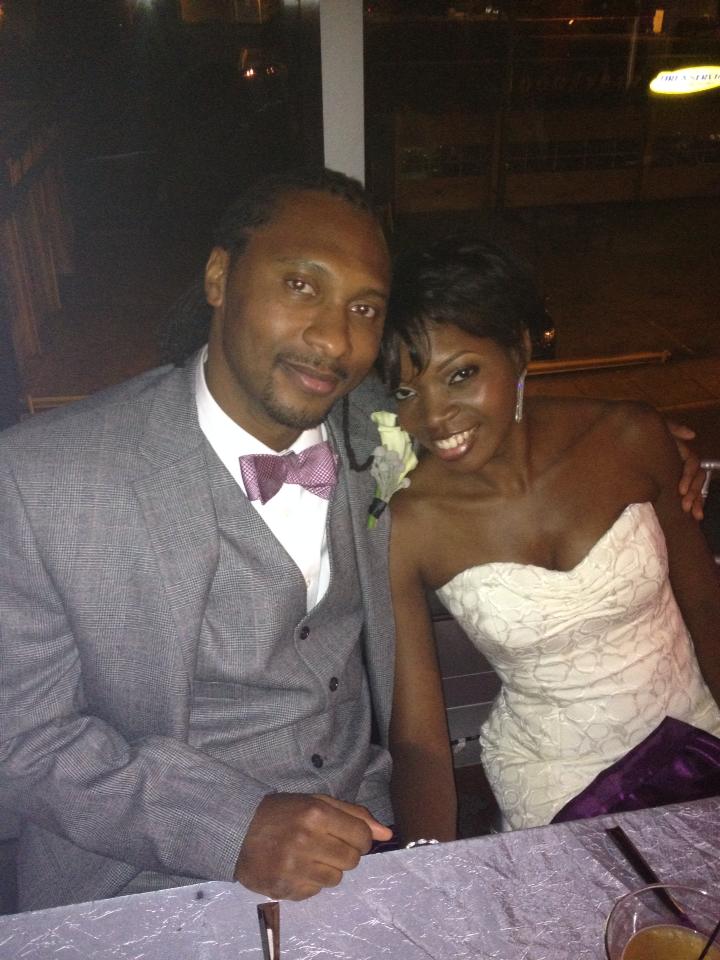 Well folks, the deed was done. On Saturday, October 19, 2013, I jumped the broom with my best friend in front of roughly 115 loved ones. (We actually wed a month prior in a much smaller ceremony — I promise to elaborate more on that later.) In a word, last weekend was bliss.
Mr. TK and I are still sleepwalking and aren't scheduled to return to our normal (whatever that means) schedules until next week. Still, I wanted to give you all a glimpse into our nuptials to hold you over until the official Tie the Knot Tuesday feature next month. Below is hand's down one of my favorite moments from the big day:
Mr. TK and I chose The Harvey B. Gantt Center in Charlotte, North Carolina as our wedding venue — both the ceremony and reception were held there. We're both huge supporters of institutions that inspire and encourage the arts while giving well-deserved exposure to visual artistic talents of Black Americans. As previously mentioned, I was scheduled to wed outdoors on the terrace. The idea of being able to have our ceremony on the rooftop terrace and the reception indoors was a significant part of the reason we selected this venue.
However after the weather proved to be too unpredictable on Saturday (it rained on and off all morning and afternoon), my mother and wedding coordinator Summer decided to move the ceremony indoors. I was a tad bit disappointed but had way too much on my mind at the time to worry about it. It was what it was. So Summer and her team, as well as the Gantt staff worked feverishly to move chairs and such. Although I was only observing from a distance while Kesha Lambert of Lash to Lens snapped First Look pictures, the entire effort appeared seamless.
After my wedding party, the officiant and Mr. TK entered the ceremony, my brother and I prepared to walk down the aisle. Right before the doors opened, he told me he loved me and was proud of me. I immediately began to cry. I thought about all the times he's been right by my side in life just as he was that day. After our father passed away, he further stepped up as an unbelievable supporter, guide and friend. At that very moment I realized many things will change now that I'm a "Mrs.". The ways I used to run to my big bro will cease because I now have a husband. It was a true "ah-ha" moment that I wasn't prepared for.
Anyhoo, we made our way to the aisle (my bro also shed a few tears) and the sun began to shine. I mean the sun began to shine incredibly bright. About a dozen guests — who don't know each other — shared throughout the evening that the sun was particularly shining on me. Guests added they felt it was my father making his presence known. Here's a picture but it doesn't really do the moment justice. Just keep in mind that minutes before this picture was snapped it was dark and gloomy.
I don't normally get too spiritual here on Triple B but if this isn't proof that God is real, well… More fun wedding recaps to come later this week!
By the way, you can see lots of fun behind the scenes images and hilarious videos from the weekend on Instagram by searching under this hashtag: #theroyallunion