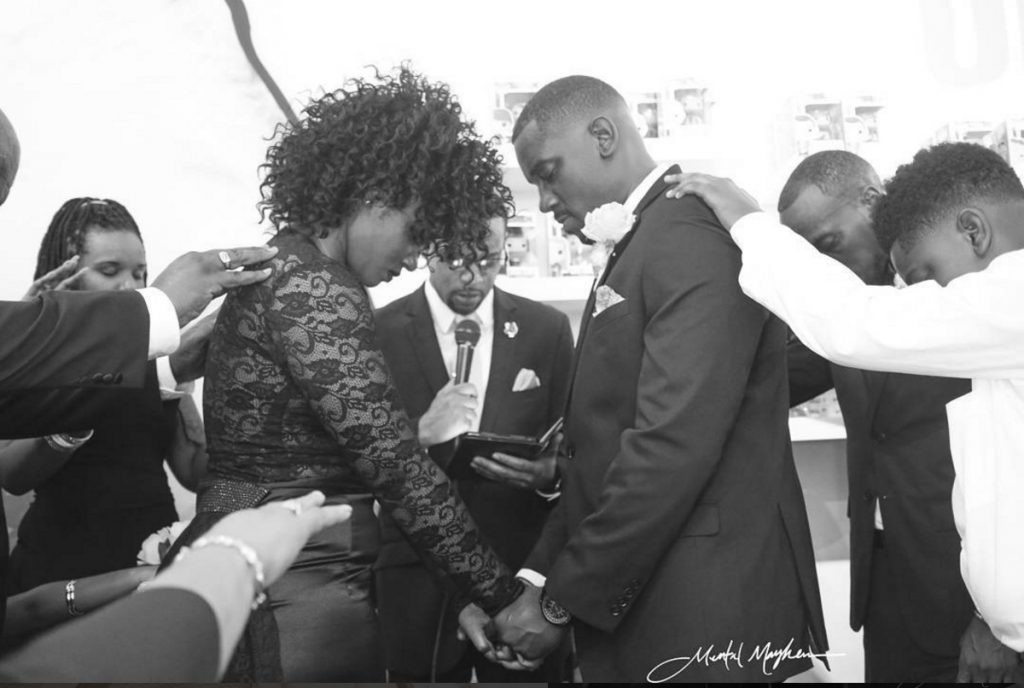 If you follow Black Bridal Bliss on Instagram (You are following Triple B on IG, right??!), then you already know how I feel about #ForeverDuncan. But just in case you missed it, here's a snapshot of the proposal and surprise wedding that had the World Wide Web collectively swooning. 
The #ForeverDuncan hashtag tells the story of Alfred and Sherelle Duncan, a Washington, D.C.-area couple who had been dating since 2013 after being introduced by a mutual friend in a local club back in 2007. On October 1, 2016, the two became husband and wife. Alfred, a Grammy and Emmy nominated artist, proposed to Sherrell, a fitness trainer and speaker, at noon and married her at 5PM in National Harbor, Maryland! Talk about having a productive day.
So how did Alfred pull this off? He told Sherrell that they were going to have a competitive date day, where she would have to agree to do whatever Alfred said. He called it "Servitude Day." At the start of the day, with their closest loved ones gathered, he asked her to marry him. She accepted. I personally appreciated that Alfred included Sherrell's daughter from a previous relationship in his proposal. For me, it speaks volumes. Once engaged, he sent his fiancee to various locations where she got her hair and makeup done by a glam squad and was styled in a custom black lace dress. She arrived at another venue which was the site of their wedding ceremony.
Watch it all unfold for yourself here:
https://www.youtube.com/watch?v=b8AAzzGHNFc
Alfred revealed this yesterday on Good Morning America (the couple has been doing a ton of press as everyone is intrigued by their story), "If not one person shared it, I didn't care. I was just trying to impress and amaze my beautiful wife."
When asked how he would top this for their first wedding anniversary, the new husband jokingly replied, "I don't have to plan anything for the next 2 or 3 years!"
Bottom Line: Here's why Sherrell and Alfred Duncan pretty much had everybody and their mama crying online over their nuptials. They genuinely seem like they're in love. Period. At the end of the day, love is something we all want. It was nothing short of a blessing to witness this couple take their love to a higher level on their terms.
Join me in wishing them a healthy and happy union!
Check out my last pick of the week here and another viral wedding fave here.
PHOTO: Mental Mayhem